more news
WYEP Chooses SAEM Program as Partner for Reimagination CD Project for Area Youth
Tuesday, March 15, 2016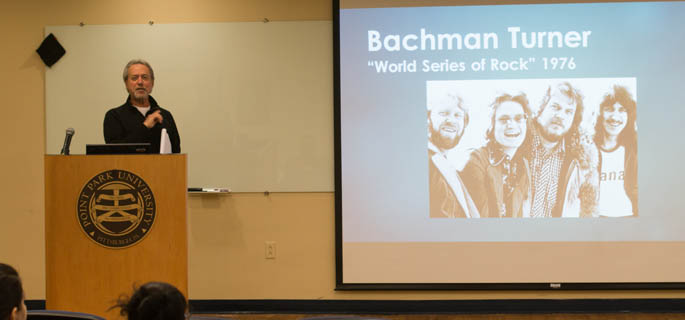 SAEM Associate Professor Ed Traversari, M.B.A., talks about the business side of the music industry and his many years of experience working with musicians, band managers, booking agents, publicists and others.
Through a new partnership with 91.3 WYEP's Reimagine Media program, students and faculty in the sports, arts and entertainment management program are providing training and support for area youth interested in learning more about the music industry.
WYEP's Reimagine Media program connects area youth with opportunities to develop, curate and publish media about music and entertainment, including blogs and podcasts. An annual project of Reimagine Media is the Reimagination CD project, which partners teen musicians with professional mentors to record and produce their own original music.
"We are thrilled to be collaborating with Point Park's SAEM faculty and students on a project that serves the local music community and helps area youth to develop their skills and interests around music, media and communication," said Abby Goldstein, general manager of 91.3 WYEP. "The expertise and learning opportunities provided by Point Park faculty will be meaningful and transformative for our teen participants."
SAEM faculty and students recently hosted the following workshops for Reimagine Media participants, Reimagination artists and their parents:
"From songwriting to talent management to live performance situations, students in the Reimagine Media program have access to real-world entertainment management experience," remarked Traversari. "Our goals are to give these students and their parents a better understanding of the business side of the entertainment industry while providing our SAEM students with real-world career experience and networking opportunities."

"Working with WYEP as a team leader has given me real work experience within the music industry," explained Mackenzie Caraway, a junior SAEM major. "My role as team leader has resembled what a tour manager does on a daily basis and helped me to be one step closer to that career goal."
"Workshops like these not only help prepare you for the future but also give you great insight and networking practice," added junior SAEM student Samantha Bowes.
In addition to the workshops, SAEM students and faculty are working in teams to develop marketing and publicity campaigns and performance opportunities for each of the young performing artists and acts on the Reimagination recording. Teams will also develop content for the booklet that will accompany the Reimagination CD, to be released in May 2016.




Photos by Victoria A. Mikula, junior mass communication major
More About: faculty presentation, student workshop, Rowland School of Business, sports, arts and entertainment management, faculty