more news
2009 M.A. Alumni is Anchor/Reporter at KOBI TV
Monday, August 13, 2012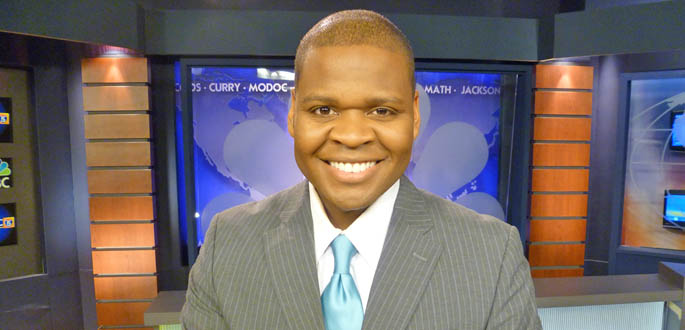 Meet Larry Miller
Degrees earned: M.A. in journalism and mass communication, Point Park University; B.A. in sociology, University of Pittsburgh
Graduation years: M.A. in 2009, B.A. in 2008
Job title/current employer: Weekend Anchor/Supervising Producer/Reporter at KOBI TV
Hometown: Baltimore, Md. and Virginia Beach, Va.
Now living in: Medford, Ore.
Why did you choose to pursue your Master of Arts degree at Point Park?
I chose to pursue my Master of Arts degree in journalism and mass communication at Point Park because the program has a strong reputation for developing a solid journalist. I also chose Point Park because the M.A. program allowed me to work and continue my education at the same time.
Did Point Park's Downtown Pittsburgh location influence your decision to attend the university?
Absolutely. I went to the University of Pittsburgh for undergraduate school and I wanted to continue living in an urban environment. I've found city life is the place for me.
How have you incorporated the skills you learned at Point Park into your professional career?
I am constantly implementing the things I learned in graduate school. At the station, I do a lot of court work and stories that involve extensive research. While at Point Park, I learned the importance of thorough, detailed research. I think my experience at Point Park made my transition from graduate student to a working professional seamless.
What was one of your favorite experiences at Point Park?
That's a tough question! I would have to say Point News Now, the school's broadcast news service, provided my most memorable experiences. In that class, I learned how to write, shoot, edit and produce television news. The constant support from the faculty proved to me that I could be a successful journalist.
What advice do you have for prospective students entering the M.A. program?
Just go for it and don't give up. The program is challenging but you can succeed. Make yourself known to the entire campus community and talk with your professors. When you need story ideas, have concerns, or need help, those contacts will come in handy.
What is a typical day like at KOBI?
It varies. On the weekends, I produce and anchor the weekend news. I get in after 2 p.m., check emails, the wires, websites, talk with reporters, and begin putting the evening shows together. During the week, I'm out in the field reporting. I'm also responsible for posting my stories to the web. I do a lot of writing, talking, and laughing everyday and I love what I do.
Anything else you would like to add?
Just be you. Watch news and entertainment programs, mimic, ask questions, make mistakes, learn and just do it.
Photo provided by KOBI
Back