more news
2012 Alumna is Web Designer and Developer at United Steelworkers
Thursday, March 21, 2013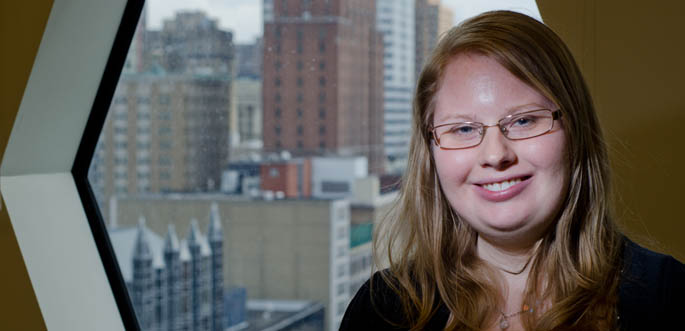 Meet Erin Price
Major and degree earned: B.A. in multimedia, 2012
Hometown: Mars, Pa.
Now living in: Pittsburgh, Pa.
High School: Mars Area High School
Job title: Web Designer and Developer at United Steelworkers
Hobbies/interests: Computers, traveling, spending time with family and friends, writing, bowling, rock music, video games and photography
Why did you choose to attend Point Park University?
I considered Point Park University after attending a high school yearbook field trip for a journalism workshop. At the time, it was rare to find a college with journalism and technology coexisting as a major. I discovered Point Park's multimedia major that had this unique combination. I was also impressed by its small class sizes, city location and great reputation.
Did Point Park's Downtown Pittsburgh location influence your decision to attend the university?
Being in a city was one of my requirements as I searched for a college. I grew up in a small town and wanted to have a new experience in an action-packed location. Point Park is directly Downtown and close to many Pittsburgh attractions.
How did you land your current job?
During my spring semester before graduation, I was job hunting and meeting with Point Park's career counselors. One day, I received an email from Professor Helen Fallon about a career opportunity at United Steelworkers. I applied and was scheduled for two interviews with the new media department and information systems department. About a month later, I received a call with a job offer starting after graduation.
What is a typical day like for you as a web designer and developer?
Each day I work on a variety of microsites that are associated with United Steelworkers. Some of my main tasks include designing a site's layout, coding with HTML and CSS and publishing content. When a site is complete, I train staff members on website maintenance. I also work on information system projects, such as writing technical manuals and answering the computer help desk phone.
Why would you recommend the School of Communication to a prospective student?
Becoming well-rounded is essential for today's jobs and can be accomplished within the School of Communication. Classes extend from writing articles, developing photos in a darkroom, creating websites, designing brochures and producing videos.
Not only are the classes diverse, there are amazing travel opportunities to tour newsrooms, radio stations and broadcast studios. Some of my greatest college memories include the journalism trips to Washington D.C., Ireland and Italy. Additionally, jobs can be integrated through work studies, apprenticeships, and internships. My apprenticeship at the Point Park News Service inspired me to pursue multimedia as a career.
What are your career goals?
My career goals include gaining more experience within my field and staying updated with technology. In addition, I'd like to continue traveling and eventually pursue a master's degree.