more news
2013 Alumna Nicole Chynoweth is a Reporter at Trib Total Media
Wednesday, September 10, 2014
Meet Nicole Chynoweth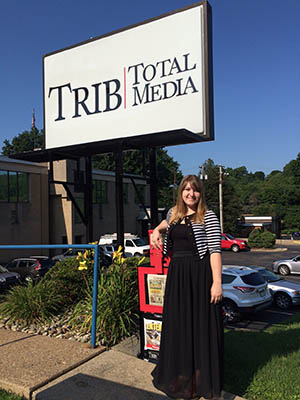 Degree earned: B.A. in journalism and multimedia, 2013
Job title and employer: Reporter, Trib Total Media
Hometown: Johnstown, Pa.
Now living in: Johnstown, Pa.
High School: Conemaugh Township High School
Hobbies/interests: Antiquing, crafting, going to concerts, playing the clarinet
Twitter: @NicoleChynoweth
Why did you choose to attend Point Park for your major?
I chose to attend Point Park after an awesome experience at the School of Communication's Summer Media Workshop. I loved learning about reporting from Helen Fallon and Heather Starr Fiedler, and the Downtown Pittsburgh campus attracted me to the school even more. The School of Communication professors all have such diverse industry experience, and I wanted to take advantage of the knowledge they had to share.
How did you land your current job?
I took Professor Andy Conte's Point Park News Service course during my senior year. I hadn't really decided exactly where I wanted to go or what I wanted to do after school, but Andy encouraged me to apply for an internship with the Tribune-Review. I heeded his advice, and just a few days before graduation, I was offered a paid internship at the Tribune-Review in Greensburg. I started my internship at the end of May 2013, around the same time that a reporting position opened up at one of the company's weekly papers, The Ligonier Echo. I started covering school board and municipal government meetings in Ligonier, and shortly after I was offered a full-time position. I could not be happier with where my path has led me, and I am so grateful to Andy for his guidance.
How did the education and training you received at Point Park prepare you for your career?
I learned there are story ideas everywhere - you just have to look for them. Bill Moushey taught me to be fearless, confident and determined. David Grande and Kathleen Ganster taught me there is always another question to ask and another angle to take. Carrie Moniot and Heather Starr Fiedler both taught me the value of diversifying my skill set. While learning the basics of journalism was certainly a major part of my education, the general life wisdom my professors gave me has really benefited me in the field.
What's a typical day like for you?
Each day is a bit different, which is one of the things I love most about my job. I split my week between The Ligonier Echo and Tribune-Review offices, covering municipal government or school board meetings, interviewing sources for feature stories or working on general assignments. My job allows me to cover both hard and soft news, so I am rarely bored with my work.
What are your career goals?
I want to write interesting stories and learn as much as I can from the people I interview in the process.
Anything else you would like to add?
Appreciate every bit of advice your professors give you, and don't be afraid to reach out to them when you're feeling unsure about where you are headed or what you are doing. I spent many afternoons in Heather Starr Fielder's office crying and panicking about the uncertainty of my future, and she never failed to deliver some nugget of wisdom that helped me. If you let them, your professors can teach you much more than just the lessons in a textbook.
More About: success story, Point Park News Service, internships, multimedia, alumni, journalism, summer media workshops