more news
2014 Broadcasting Alumna Elena LaQuatra is WTAE's 4 the 412 Host and Miss Pennsylvania USA
Friday, January 8, 2016


Meet Elena LaQuatra
Job title: Digital Video Creator, 4 the 412, WTAE-TV's online lifestyle and entertainment channel
Degree earned: B.A. in Broadcast Reporting, December 2014
Scholarships from Point Park: Presidential Scholarship and School of Communication Scholarship
Internships: KDKA-TV and WPXI-TV
Hometown: Mt. Lebanon
High school: Mt. Lebanon High School
Hobbies/interests: Traveling, bike riding, hiking, pageant coaching, shopping and going out to eat with friends
Twitter: Elena LaQuatra
Why did you choose to attend Point Park?
During my college search, I applied to eight different schools and was set on moving south. However, when it came time to make my final decision, I decided to stay in Pittsburgh because I really am a city girl.

I chose Point Park for several reasons - I really liked the location in Downtown Pittsburgh, class sizes are small and I wanted the one-on-one experience with my professors, the broadcast program is top notch and I was lucky enough to receive scholarships. It made sense for me to choose Point Park and I'm so glad I did.
Tell us about your Point Park experience.
What I loved the most was that all of my professors were able to provide real-life advice from their careers. It was great to hear what it's like in the real world and I really appreciated their honesty. I was encouraged to work hard and learned how to write, edit and report.
How did you land your job with 4 the 412?
I saw an ad on Facebook that WTAE was hiring for their online entertainment channel. I thought this would be the perfect fit, went through the interview process and now am proud to be one of the video creators for 4 the 412.
What is 4 the 412?
4 the 412 is WTAE's online lifestyle and entertainment channel. There are six digital video creators who cover a variety of stories in Pittsburgh - music, technology, business, college life, food, etc. - it's really cool and I love it. The news director and general manager oversee our team to generate story ideas. Oftentimes, anchors and reporters will collaborate with us if they are working on an entertainment-based story.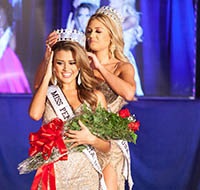 You were recently crowned Miss Pennsylvania USA. Who and what inspired you to compete in pageants?
At age four, I was diagnosed with bacterial meningitis and lost my hearing and balance. I endured a nine-month recovery process, attended the DePaul School for Hearing & Speech, located in Pittsburgh, and had cochlear implant surgery.
Fast forward several years later, I was at a convention for Cochlear Americas and met Heather Whitestone, the first deaf Miss America. Heather encouraged me to look into pageants, and so I did.
Tell us about your pageant experience.
I competed in my first pageant at age 14. In 2007, I held the title of Miss Pennsylvania's Outstanding Teen, and went on to Miss America's Outstanding Teen where I won almost $20,000 in scholarships to help pay for college. I also competed in the Miss Universe Organization, winning the title of Miss Pennsylvania Teen USA.
I took a break from pageants to focus on my college career and pursue a degree in broadcasting, but then I decided I wanted to compete for Miss Pennsylvania USA. Last year, I was the first runner-up and knew I had to try again, and I'm so glad I did. I was recently crowned Miss Pennsylvania USA and am so excited to compete in the Miss USA pageant this year (and hopefully in the Miss Universe pageant after that).
What is your message to someone facing adversity?
I'm such a live-and-let-live type of person, so I try to encourage others to do what makes them happy. If you have a dream, go for it. I'm 100 percent deaf in both ears and I would have never imagined that I would have studied broadcast communications and pursued the path I'm on, but I did it. Don't harp on your shortcomings, get out there and show the world just how amazing you are.
Pageant photos courtesy of Edwin Shaw
More About: broadcast reporting, WTAE, WPXI, Mt. Lebanon High School, internships, School of Communication