more news
2017 Alumnus is Managing Editor for The Northside Chronicle
Alumni Profile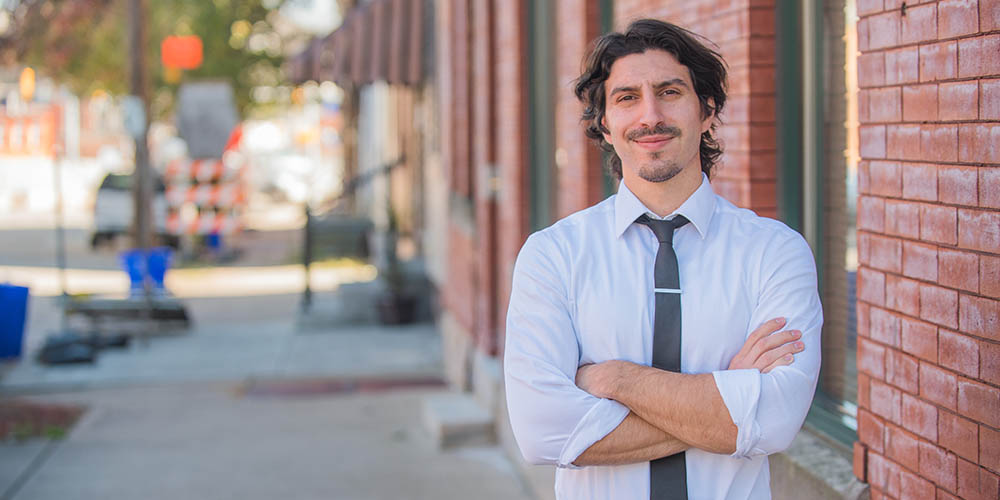 Meet Neil Strebig
Job Title & Employer

Managing Editor, The Northside Chronicle

Major

Journalism

Graduation

April 2017

College Activities

The Globe, WPPJ

Hometown

Easton, Pa.

High School

Freedom High School

Now Living In

Deutschtown, located in Pittsburgh's North Side

Hobbies & Interests

Comic books and playing video games
"When Neil reached out to the Northside Chronicle, I knew he would be a valued team member based on Point Park's reputation as a University of service to Pittsburgh's communities through their Wood Street Communications program. Ambitious, passionate, and very talented in delivering stories through a variety of mediums, Neil has brought new skill sets from his experiences at Point Park, and is a wonderful resource for our neighborhood newspaper."
Lauren Stauffer, Advertising Manager, The Northside Chronicle
"So many professors have aided me in my growth not just as a journalist, but as a writer, as a photographer, and as a videographer — without the staff, I would most certainly not be where I am right now."
Neil Strebig
Tell us about your experience as a transfer student to Point Park University.
I thoroughly enjoyed my time at Point Park. Despite being an older student in comparison to my peers, I never felt out of place. Point Park is an insanely communal campus filled with a tremendous amount of creative personalities. If I had to pick one thing, I'd have to say that seeing so many of my friends and fellow peers involved in not just clubs offered on campus, but in their own projects and internships outside of the standard curriculum, was a motivating factor for me. Journalism is a highly competitive field to begin with, but when you see your fellow classmates hustling as much as you are, it certainly lights a fire inside of you.
Who impacted you most at Point Park?
So many professors have aided me in my growth not just as a journalist, but as a writer, as a photographer, and as a videographer - without the staff, I would most certainly not be where I am right now.

Bill Moushey helped drill the importance of anecdotes into my brain.

Thom Baggerman and Robin Cecala were the sole reason I can call myself a multimedia journalist; without either of them, I likely would never have learned how to properly shoot and edit video.

Helen Fallon, who I worked with on my capstone, took me through the paces of editing. Anyone who had her knows how tedious she is with her process and editing work, but it is an integral part of being a journalist and without her guidance, I wouldn't have the confidence to be in the position I am in now.

Andrew Conte encouraged me to chase after my goals, to utilize the facilities at the Center for Media Innovation and was always there for guidance.

Chris Girman was vital to my growth as a writer. The School of Communication gave me the tools to be a journalist, but Girman helped elevate my skillset as a writer.

And if it wasn't for Chris Rolinson, who offered me a number of freelance photography and videography opportunities, I likely never would have had a respectable resume to get hired - the experiences and knowledge working with him have been invaluable.
How did you land your job and what are your key responsibilities?
I originally worked with NSC as an intern under then editor, Justin Criado. After my internship ended I still worked closely with Criado and his replacement, Alyse Horn, as a contributor. I've lived in Deutschtown since 2014, so it came as a somewhat natural importance for me to report and cover news in my own backyard. In hindsight, I believe maintaining that connection with both the NSC's staff and the newspaper's readers played a large role in my hiring. There was a familiarity with my work and my work ethic. I'm fortunate that Justin got me in the door and that Alyse let me stay on as a contributor.
My current role as managing editor forces me to wear a number of hats. We're a small publication, with only two full-time staff members, so I'm forced into a variety of roles. I work not only as the editing voice for the paper, but I'm also contributing a number of stories weekly for the website (and monthly print editions), I'm managing our interns and contributors, I'm working in InDesign finalizing the layout for the paper before we go to print, I'm maintaining our social media pages and our advertising manager, Lauren Stauffer, and I even hand deliver the papers to local businesses and newspaper boxes within our distribution area.
What do you enjoy most about your job and why?
I love the fact I'm in a unique position where I can essentially sandbox a newspaper. I am in a position where I can control not just the content of the paper, but its voice, its style and how we are offering our content to our readers - it is a rather exciting task. Naturally, there's a ton of work involved in that task, but it is also a challenge I understood before I took the position. It's the main reason I accepted the job. I want to leave a footprint with the NSC. I want to turn it into a publication that doesn't only have North Side residents reading it, but one that also has Pittsburghers from the opposite side of the Allegheny aware of it. I want the NSC to be a cog in the journalism scene out here, not just an ornament.
Is there anything else you would like to add?
My advice to young students regardless of their majors - invest in yourself. Whatever your goals may be, put stock in your own potential and believe in your abilities. Let that confidence steer you towards your goals.
Photo by Nick Koehler, freshman photography major
More About: success story, alumni, Center for Media Innovation, WPPJ, faculty, transfer, School of Communication, journalism, The Globe