more news
More Than 150 High School Students and Teachers Attend Spring Media Day at Point Park University
Tuesday, April 2, 2019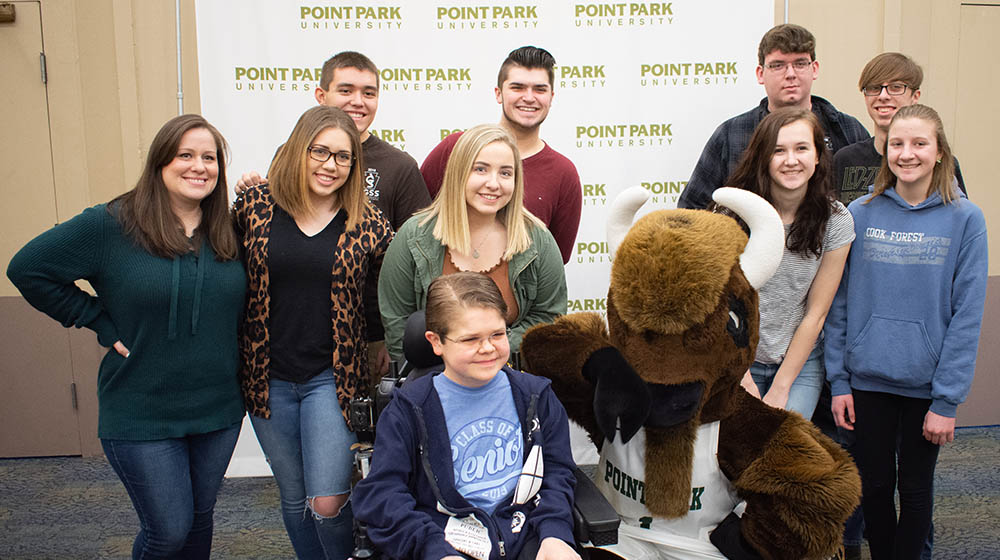 Point Park University's Center for Media Innovation and School of Communication hosted more than 150 students and teachers from 16 high schools in Pennsylvania and Ohio for the annual spring media day March 15 on campus. This year's theme was Raise Your Voice.
"My favorite part was meeting students from other schools who have a similar interest in journalism," said Stephanie Kroll from Bethel Park High School. "There is still hope for journalism and there are people who care about getting the truth out." 
Interactive workshops included:
The day concluded with lunch and a keynote presentation from Chris Preksta, filmmaker and co-writer/director of the online sitcom Pittsburgh Dad.
In Their Own Words: What Participants Said About High School Media Day
"I enjoyed listening to Chris Preksta talk about what it's like to direct films and how difficult it can be to make a good product. He encouraged us to continue creating until you get really good at your craft." — Vance Jacobs, Western Beaver Area High School student
"I really like the access that you get in Downtown Pittsburgh. For me, that means lots of opportunities with it that comes to internships and co-ops, which are all nearby or easily accessible with Pittsburgh's mass transit options. The media facilities were top notch in terms of technology and equipment. Plus, the campus feels safe." — Mike Richwalsky, parent of an Avon High School student
"It was very interesting learning different aspects of iPhone photography and how to be as creative as possible using only the tools on my phone. I also really enjoyed learning what goes into a TV broadcast." — Seth Zoppelt, Western Beaver Area High School student
"I used to come to Point Park as a student at Butler Senior High School for media day, which is when I first found out about the school. Seeing those students in the session I led about the ins-and-outs of TV production reminded me how eager I once was to get my hands on equipment, and now I'm the station manager of U-View here. Life is funny like that." — Allison Schubert, broadcast reporting major
Photos from High School Media Day
Photos by Brandy Richey, multimedia major
More About: Center for Media Innovation, Downtown Pittsburgh, high school media day, School of Communication, high school programs, Bethel Park Senior High School, Butler Area High School