more news
Alumna Jasmine Goldband is a Photographer at the Pittsburgh Tribune-Review
Friday, August 16, 2013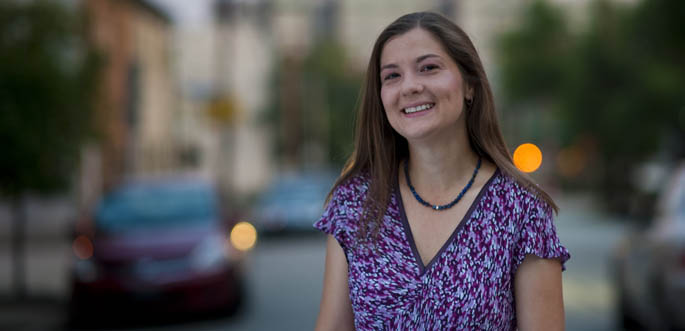 Meet Jasmine Goldband
Degree Earned: Bachelor of Arts in photojournalism, 2003
Employer: Staff Photographer, Pittsburgh Tribune-Review
College Activities and Internships: Photography intern at the Pittsburgh Post-Gazette, president, Point Park Student Government, photo editor of The Globe
Hometown: Macungie, Pa.
Now living in: Mexican War Streets in the North Side
High School: Emmaus High School
Hobbies and Interests: Swimming, hiking, yoga, blogging, reading, multimedia production, film
Professional Memberships: National Press Photographers Association, Women in Film and Media
What factors made you choose to study photojournalism at Point Park?
The hands-on approach appealed to me and I was very impressed with the newsroom atmosphere. I liked the small class sizes offered and personal relationships I was able to build with my instructors. The urban campus offered me so many opportunities to network with media professionals and build a competitive portfolio.
How did your college education prepare you for your career?
The School of Communication faculty provided me with real-world industry knowledge and insight.
What are your key responsibilities at the Pittsburgh Tribune-Review?
I photograph daily news, feature and portrait assignments. I also regularly work on long-term investigative projects, shoot multimedia presentations, including video and audio visual slideshows.
In addition, I serve as an administrator for the Pittsburgh Tribune-Review's "ptrphoto" department blog and social media sites (Facebook, Twitter and Tumblr).
Please list recent awards you received for your work.
What advice do you have for photojournalism and photography students?
Learn as many visual media as possible to give yourself an edge. I recommend that photography students take business classes to prepare for work as a freelance photography business owner. Also, learn as many computer languages as possible like HTML, Java or Ruby. These skills are extremely valuable in the modern newsroom.
More About: alumni, Downtown Pittsburgh, photojournalism, The Globe