more news
Alumna Justine Coyne covers key industries for Pittsburgh Business Times
Wednesday, August 5, 2015
Meet Justine Coyne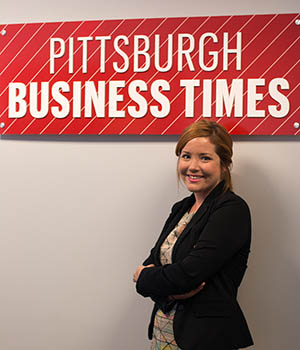 Job title and employer: Reporter, Pittsburgh Business Times
Degree earned at Point Park: B.A. in photojournalism, 2009; M.A. in journalism and mass communication, 2012
Hometown: Bethel Park, Pa.
High school: Bethel Park High School
Now living in: Bloomfield (Pittsburgh), Pa.
Hobbies/interests: Travel, craft beer, trying new restaurants, going to concerts and hanging out with my dog Garth
Twitter: @PBT_Justine
LinkedIn: Justine Coyne
Why did you choose to attend Point Park for your undergraduate and graduate degree?
When I was looking at colleges my senior year of high school I wasn't sure if I wanted to pursue a degree in photography or one in journalism. I liked that Point Park's photojournalism program gave me a mix of writing and photography to see what I enjoyed most. What brought me back to Point Park for my graduate degree was the Innocence Institute. I didn't have time to get involved as an undergraduate and really admired the work of the organization. It was a great experience and I learned skills that I use daily.
What did you enjoy most about being a student at Point Park?
What I enjoyed most was that many of my professors were working in the journalism field locally. It was great for making contacts. Plus, who knows better what skills you need to make it in the field than those who are working in it every day.
What are some of your key responsibilities at your job?
I cover manufacturing, education and technology for the Pittsburgh Business Times so it's my responsibility to stay on top of anything going on in those fields in Pittsburgh. It's a lot to juggle and keeps me busy, but I do enjoy that some days my morning starts in a manufacturing plant and it ends with a campus tour. It's exciting to cover companies that have been in Pittsburgh for more than 100 years and then get to meet the entrepreneurs that are just getting started and share their stories.
How did the education and training you received at Point Park prepare you for your career?
There are so many skills that I use every day that I can trace back to my education at Point Park. From learning how to write a really strong narrative lead in Andy Conte's Advanced Reporting class, to learning how to thoroughly research and report a long form piece in Bill Moushey's classes, it's these skills that gave me the foundation to start my career.
What are your career goals?
I want to continue to meet new people and tell their stories for as long as I can.
Anything else you would like to add?
For me, it's amazing to see how far Point Park has come since I started as freshman in 2005. Back then, I had to live on Chatham's campus because there wasn't enough housing. Today, the University is embarking on a major capital project with the Pittsburgh Playhouse in addition to continuing to invest in the Boulevard of the Allies and Wood Street corridors. It's fun to watch not only as a former student, but now also as a reporter.
More About: success story, Bethel Park Senior High School, M.A. in media communication, photojournalism, alumni