more news
Alumnae Manage Public Relations and Advertising and Social Media at Blender, Inc.
Wednesday, September 30, 2015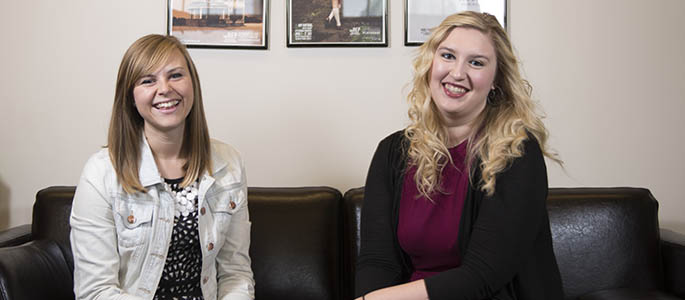 (L-R) Alumnae Abby Mathieu and Katy Albert at Blender, Inc.
In classes together at Point Park, School of Communication alumnae Abby Mathieu ('14) and Katy Albert ('14) dreamed of pursuing careers in public relations and advertising, journalism and/or social media. Now, less than two years after graduating from Point Park, Mathieu and Albert are managers at Blender, Inc., a leading communications agency in Pittsburgh's Shadyside neighborhood.
"Because we were trained at the same place, we share a similar perspective but our different personalities and experiences ensure that we both bring a unique flare to the work," said Albert.
In the profiles below, Mathieu and Albert discuss how they landed their jobs at Blender, key responsibilities, why they chose Point Park, career goals, as well as advice for prospective students.

"It's great working with a fellow Point Parker. We work really well together, and it's fun to reminisce about Point Park every now and then," said Mathieu.
Public relations and advertising and journalism, May 2014
Public Relations Manager, Blender, Inc.
"As public relations manager, I am kind of the go-to part of our team for any public relations inquiries. I assist with numerous writing projects, including press releases, media advisories and pitches. I'm constantly working to develop and cultivate relationships with the Pittsburgh media and help our clients prepare for various media interviews and appearances."
Public relations and advertising, December 2014
Social Media Manager, Blender, Inc.


"As a social media manager, I am the connection between a brand or company and their digital audience. It's critical to spend time getting to know the online community for each client so you can tailor the messaging for them. Words are more powerful than anything and can be beautifully crafted to create an impact."
More About: public relations and advertising, social media, journalism, success story, alumni