more news
Alumni Profile: Heidi Dezayas, editor of Plum-Oakmont Patch
Monday, August 15, 2011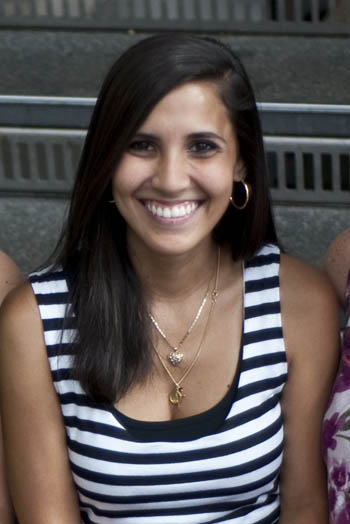 Meet Heidi Dezayas
Major and degrees earned at Point Park: B.A. in broadcasting
Graduation year: 2007
Job title/current employer: Local editor, Plum-Oakmont Patch
Hometown: Hialeah, Fla.
Now living in: Verona, Pa.
Why did you choose to attend Point Park?
I was always interested in journalism but never really thought about where I would go to school. The summer before my senior year of high school, I relocated from Florida to Pennsylvania and decided I didn't want to move again so quickly. I decided to stay in-state. My twin sister and I thought about going to Penn State main campus together, but she decided she wanted to go to Pitt. I found Point Park online and scheduled a tour immediately. Once I visited the school, it was a no-brainer. I loved that it was a small university with a strong focus on my interests. I had full scholarships to other universities, but my heart was set on Point Park.
How did Point Park prepare you for your career in journalism?
Point Park has an amazing, hands-on program for students in journalism. Students also have a world of resources at their fingertips. Point Park students often get first pick of local internships because of the school's reputation, and they are definitely instrumental in gaining experience.
What was one of your favorite experiences while you were at Point Park?
I enjoyed being involved with CSB (College Students in Broadcasting; now National Broadcasting Society) and anchoring the "On the Point" TV shows on U-View. The TV station wasn't nearly as developed when I went to school as it probably is now, but we had the opportunity to shoot special shows and segments for it. Some of them even aired on WBGN-TV, which definitely made me feel important and like my work was worthwhile. The faculty also was so great to work with! Each professor really wanted his/her students to be successful and helped out any way they could (I'm positive they still do).
What advice do you have for prospective students entering the School of Communication?
Take advantage of every opportunity that comes your way. Get involved with clubs and organizations at Point Park. They often hold events with people who are successful in journalism or take field trips to different communications facilities (TV stations, newsrooms, ad agencies, etc.). Those are great networking opportunities that will be beneficial once students graduate.
What advice do you have for students considering a job in online journalism?
Be very accurate. Online journalism is so tricky because news spreads like wildfire. Once something is online, people can share it or link to it so quickly. If you make a mistake, it might be too late before you realize it and can fix it.
What is your favorite thing about your job at Patch?
I love that Patch has such a local angle. I worked for local weekly newspapers for almost four years and loved it because I was delivering community news to people. I didn't like that articles sometimes were days - sometimes over a week - old by the time the paper came out. With Patch, people can log on daily and get a dose of what's going on as it's going on. A lot of these communities are overshadowed by the daily news media because they're "quiet," so they only get coverage when something bad is going on. I like focusing on the good, too.