more news
Alumni profile: Jacqueline Collavo, M.A. in journalism and mass communication
Friday, August 31, 2012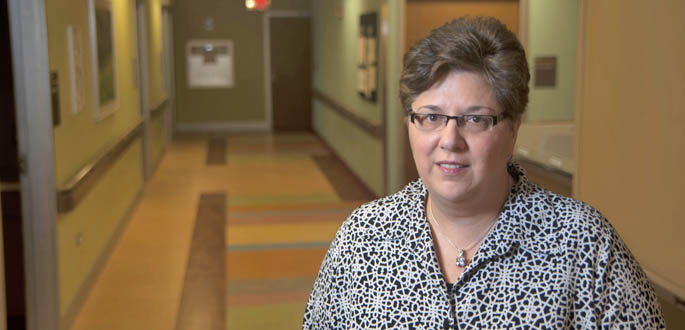 Meet Jacqueline Collavo
Job title: Director, Nursing Operations and Magnet Recognition Program
Employer: The Western Pennsylvania Hospital
Degrees earned: Master of Arts in journalism and mass communication, corporate health care communications focus, Point Park University, Bachelor of Science in nursing, Carlow University
Graduation years: 2011, 1983
Professional certification: Nurse Executive, Board Certified, American Nurses Credentialing Center, May 2008
Hometown and current residence: Pittsburgh, Pa.
Hobbies/interests: Photography, art, flowers, writing, reading, and home improvements
What led you to pursue a M.A. degree in journalism and mass communication?
After years of nursing experience and having my Bachelor of Science in nursing since 1983, pursuing a master's degree was my next step. I chose to not limit my grad school education to a master's degree in nursing. I rather opted to expand my knowledge base to include advanced education related to corporate PR, marketing and health care communications that would serve to complement my nursing experience, and ultimately make me a more proficient writer, editor, and communicator.
What made you choose Point Park for grad school?
I chose to attend Point Park because of the academic reputation of the M.A. degree program for journalism and mass communication. The program allowed me to pursue optimal learning in a small individualized, and scholarly-focused classroom setting. I feel the classes I completed were academically rigorous and provided "real-world" and critical thinking skills that any employer would value. In addition, Point Park's convenient Downtown setting provided me timely and easy access to class each week while working full-time in nursing administration.
How has your M.A. degree helped you in your career?
I believe to be successful in nursing one must be committed to a lifetime of learning - in nursing and in other related educational fields. Therefore, I chose the M.A. program to complement my existing knowledge. With more than 29 years experience as a clinician and nurse leader, I wrote and edited our first Magnet recognition documentation in 2005. The magnet process is very rigorous, requiring multiple volumes of documentation. Knowing I would be writing the magnet document again in 2010 to seek magnet re-designation, I wanted to learn all I could about writing, editing, publishing, and communication research, and my M.A. degree has helped me significantly. The M.A. program assignments and projects may have been intense at times, but they provided valuable and realistic knowledge applicable to things I do everyday.
What is a typical day like at West Penn?
As a nursing director, I oversee the many daily operations of the nursing division at West Penn Hospital. I participate in and lead many committee meetings related to nursing professional practice, which serve to meet and exceed the standards of excellence for the magnet Recognition Program. As a magnet facility, West Penn Hospital is in the top seven percent of health care facilities in the world for nursing excellence - an accomplishment I am most proud of.
What advice do you have for prospective students entering the M.A. program at Point Park?
I strongly encourage every student pursuing educational opportunities at Point Park to challenge yourself in every class, work hard, and strive to achieve your goals. Get to know your classmates and professors. Don't be afraid to ask questions, the professors are extremely knowledgeable and dedicated individuals who are there to help you succeed. One should never stop learning. Never did I think I would be graduating with a M.A. degree at 50 years old! Remember, to be happy in your career choice, it is crucial that you have the education you need to succeed. So make the most of your grad school opportunity - you will be so happy you did!
What are your future career goals?
I will always be a nurse, and it will always be my goal to make a difference in people's lives each and every day. Nursing is a highly skilled and dynamic profession. Yes, nursing is my passion, but I believe strong writing skills and effective communication are critical as a nurse leader and administrator. My education has afforded me the best of both worlds - that of nursing and communications. My future career goal would be to one day be in a vice president position in hospital administration or in hospital communications at West Penn or another magnet Hospital where my nursing background and grad school education from Point Park will continue to serve me well. Beginning in 2013, through my professional nursing organization memberships, I will be serving as consulting writer/editor and peer reviewer for selected professional nursing journals.