more news
Alumni Profile: Kristina Martin, Associate Editor at Pittsburgh Magazine
Monday, August 13, 2012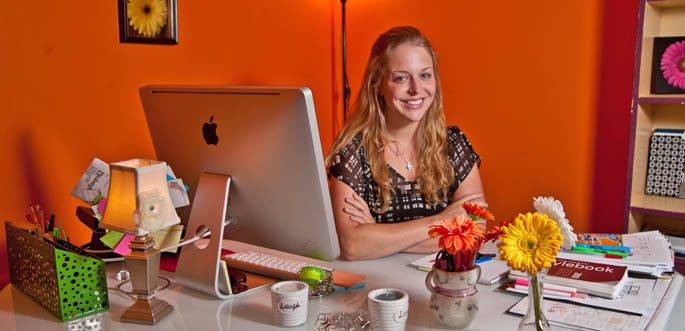 Meet Kristina Martin
Degree earned: B.A. in journalism
Minor: Digital media
Graduation year: 2010
Job title/current employer: Associate Editor, Pittsburgh magazine
Hometown: Kennedy Township, Pa.
Now living in: Pittsburgh, Pa.
Hobbies/interests: Writing, reading, Zumba, cooking
Why did you choose Point Park?
Because I'm from the suburbs, I was mostly interested in finding a campus that would force me to become more acquainted with the city. While I had toured several great schools, I kept comparing them to Point Park and its urban setting. At the time, the journalism department was budding, and I was eager to get involved with the activities mentioned during my tour, such as contributing to the established on-campus newspaper, The Globe, and taking student trips to Washington D.C. Where else can you find renowned news outlets within walking distance - and professors who were (or still are) employed in the field?
How did your time at Point Park prepare you for your job at Pittsburgh magazine?
In the classroom, I learned all the grammar and AP Style rules from the best. I was taught the essentials about reporting, ethics and the proper way to craft a lead. Versatility was emphasized. While I was drilled on story structure, kindness and professionalism were also covered.
What is a typical day like at Pittsburgh magazine?
The truth is that there isn't a typical day. Because I do several different things - copy editing, writing, managing writers, working on website-related projects, sending newsletters - I could be solely focused on one or two areas one day and then work on something completely different the next. Also, because we work months in advance and follow many production-related deadlines, the pace is different each week. And that's what keeps me going and interested.
What advice do you have for prospective students considering Point Park's School of Communication?
If you're looking for a top-notch program, this is it. Don't be afraid to ask questions or get to know your professors. Don't wait until your last semester to get involved. Speak up, and make your presence known; there are so many opportunities made available to college students.
What are your career goals?
I'd have to say that I plan to stay in publishing. I love magazines; there's just something about the writing style - and finished product itself - that keeps me hooked. Recently, I've developed a strong interest in food writing, so that may be something I'd pursue in the future.
Anything else you would like to add?
Stay committed. If you're looking to land a job after graduation, you must challenge yourself - because nobody is going to cut you a break in the real world. You must be prepared for a professional work setting by the time you leave college. So make everything count while you're in school.