more news
Alumnus Credits Point Park for Preparing Him for the World that Exists in 2012
Friday, October 12, 2012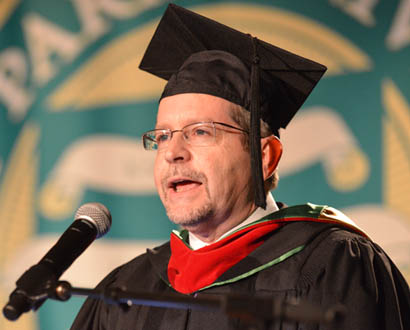 Alumnus Michael DeCourcy delivers the keynote speech at Convocation 2012.
Meet Michael DeCourcy
Job title: College basketball columnist
Employer: Sporting News
Degree earned: B.A. in journalism and mass communication
Graduation year: 1981
Hometown: Pittsburgh, Pa.
Current residence: Cincinnati, Ohio
Hobbies/interests: Soccer, Steelers, Penguins, Broadway shows
Why did you choose to attend Point Park?
I received a full scholarship to Point Park.
What are your key job responsibilities?
I'm a sports analyst, but sometimes I'm asked to report the news. Some of my responsibilities include writing for a monthly magazine and a sports app that comes out twice a day, maintaining content on aol.sportingnews.com, and promoting these products through radio and TV interviews.
In this business, you have to be willing and able to be flexible and versatile. One minute you could be breaking a news story and the next you could be writing a profile. It's still surprising to me that people in this day and age struggle with that. Point Park prepared me for the world that existed in 2012, where you have to be ready to do everything: write, edit, shoot video, etc. If you can't do everything, then you better be absolutely brilliant at whatever you do. Because of my Point Park education, I'm able to handle different media and the demands within those media.
What advice do you have for prospective students considering Point Park?
I often get letters from graduating seniors that ask me for advice on how to get started in the business. My advice is that you have to start preparing to work in this field when you're in high school. I encourage students to join the TV or radio station, or work for the newspaper or website that reports on the school. You absolutely have to get involved and stay involved in these types of activities in high school and in college. At Point Park, I had an internship at a radio station, I wrote stories for a tiny newspaper getting paid almost nothing, but I learned a ton. Internships and experience, those two words at Point Park were like the 11th commandment.
What are your career goals?
That's a tough question. I want to keep doing what I do for as long as I can. I love my job and I love the people I work with. In addition to my job at Sporting News, I have a side gig at the Big 10 Network as a TV analyst. I work for two companies and everybody I work with is wonderful. I know that can't be the norm, and I'm so lucky that the people at both jobs are fantastic and delightful to work with. It makes me proud to be a part of both organizations.
Anything else you would like to add?
Prepare yourself for whatever career opportunities develop. I didn't finish college and land my dream job. Instead, I covered baseball and was really bad at it, covered boxing and was good at it, covered auto racing (I can barely pump gas), and now I'm doing what I love. A lot of students think that you need to land your dream job right out of college and that simply isn't true. My wife Debbie, who is also a graduate of Point Park's journalism and mass communication program, held several different jobs and is now the director of corporate communications at Fifth Third Bancorp. Learning by watching her work has been as important to my career development as anything else in my life.
I would also like to encourage students entering the work force to be a good employee and be committed to doing your job well. It's not that hard to do or hard to be somebody that others enjoy working with.
Lastly, it's really an exciting time to be a student at Point Park. So much has changed since I was there and I'm so proud to be an alumnus. I hope students and prospective students appreciate all of the growth and changes at Point Park, and take advantage of the opportunities available within walking distance in Downtown Pittsburgh.