more news
Alumnus is Assistant Director of Sales for the Reading Fightin Phils
Thursday, December 6, 2012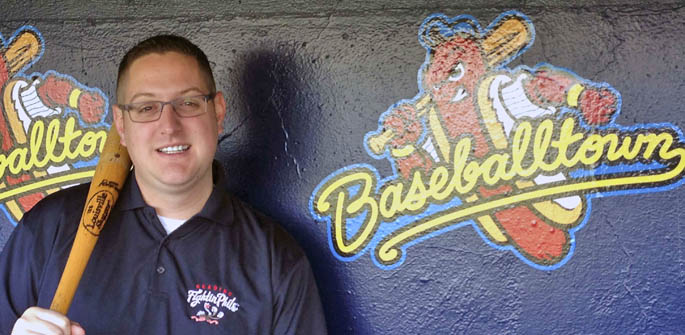 Meet Anthony Pignetti
Job title: Assistant Director of Sales
Employer: Reading Fightin Phils
Degree: Bachelor of Arts in broadcasting reporting
Graduation year: 2008
Interests: Baseball, sports radio, Pittsburgh
Hometown: Marlboro, N.Y.
Now living in: Sinking Spring, Pa.
Why did you choose to attend Point Park?
After taking a tour of Point Park, I knew it was the school I wanted to attend. The fantastic location in Downtown Pittsburgh was perfect for me. I always wanted to go to college in Pittsburgh, but also wanted to experience everything a Downtown environment has to offer; Point Park accomplished both goals. Growing up as a big Pittsburgh Pirates fan, Point Park's location to PNC Park was also an added benefit. Additionally, the small class sizes and easy access to professors was something that was very important to me.
How has your B.A. degree helped you in your career?
On a daily basis, my job focus is to secure new corporate clients, while at the same time maintaining excellent relationships with existing clients. To ensure this, I make sales calls, set up meetings to discuss and show inventory and sell the Fightin Phils advertising to prospective clients. During the game, I ensure clients are having a good time and all their needs are met. In addition, I assist with in-game contests and entertainment.
Communicating efficiently with clients and prospective clients is essential. If I couldn't effectively discuss the Fightin Phils product or inventory at the ballpark, it is very unlikely that I'd be successful. Many of my communication courses at Point Park have helped me in my career.
What advice do you have for prospective students considering the School of Communication?
The best advice I can give is to obtain as much hands-on experience as possible in your chosen field. As the School of Communication properly expresses to its students, internships are vital in not only gaining experience in your chosen field, but also in making contacts, which may be one of the most important aspects of attaining future employment. At the internship, a student must work extremely hard to stand out. I had to make sure that my hard work and dedication would stand out above the rest. Essentially, an internship is a job interview and it's important that one takes it extremely seriously.
What are your career goals?
I would love to continue advancing my career in the baseball industry. I have been a huge baseball fan throughout my entire life and it's really a dream come true to have a job that I love and enjoy coming to each day - not many people can say that. Every day brings new and exciting challenges. It's really a fantastic place to work and I've met great friends here.
Anything else you would like to add?
In addition to great internship opportunities, Point Park has fantastic student organizations. I was a member of WPPJ and worked as the station's sales director. Whatever a student's career interest is, Point Park certainly has a student organization that matches it.
Finally, I just want to say that it's important to never give up on your goals and dreams in life. As a younger person and college student, I always had an interest in baseball and wanted to work in the sport. When the opportunity arose for a full-time internship with the Reading Fightin Phils, following my graduation from Point Park, I took full advantage and worked as hard as I could. That hard work paid off and I can now proudly say that I am the assistant director of sales for the Reading Fightin Phils Baseball Club.
Photo by Andrew Nelson