more news
Assistant professor's photo book depicts beauty of state parks
Monday, December 7, 2009
After joining the School of Communication faculty in 2004, Chris Rolinson created a course on nature photography to give his photojournalism students an experience outside the urban environment of Downtown Pittsburgh.
On class outings to state parks throughout the region, his students shot terrific photos of the Western Pennsylvania's natural beauty. Rolinson took his own camera along and soon found himself with a growing collection of gorgeous outdoor images.
Five years later, Rolinson has published a handsome fine art photography book of stunning pictures taken in state parks in Western Pennsylvania, from Erie County to the Maryland border. The book, titled "Our State Parks, Western Pennsylvania," has 92 photos ranging from well-known spots like Cucumber Falls in Ohiopyle State Park to lesser know locales like the Allegheny Islands State Park.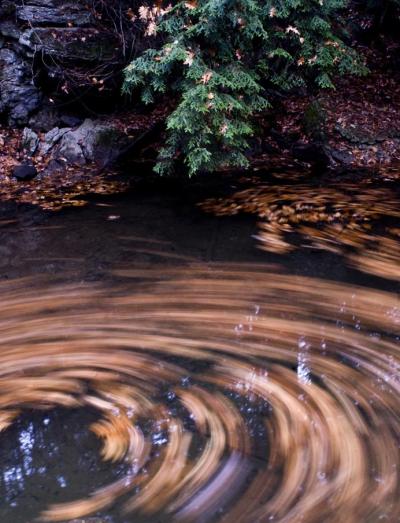 "I wanted to show these places in Western Pennsylvania that are still considered wild," he explained.
Accompanying the photos is first-person text in which Rolinson describes his visit to each scenic spot. Michael Caggeso, a long-time acquaintance of Rolinson's, served as editor.
To get photos from so many state parks, Rolinson took his camera wherever he went, from class trips to professional assignments to family outings.
He shot the oldest photo in the book during a 2004 assignment for the Associated Press on garbage dumps in state forests. The forest ranger took him to dump sites but then said, "I want to show you some other things." From that day came the book's photo of Sproul State Forest.
In addition to shooting the photos and writing the text, Rolinson handled the book's layout. Now that it's published, he's doing his own marketing. At presentations and exhibits, his introduction always mentions his faculty position at Point Park and the School of Communication.
To preview or purchase "Our State Parks," visit the book's website.
Photos courtesy of Chris Rolinson
Top photo: The Shoals at Allegheny River Islands State Park, Allegheny County.
Right photo: Hell's Hollow at McConnell's Mill State Park, Lawrence County