more news
Associate professor chronicles life of NFL star James Harrison
Wednesday, December 16, 2009
'Never Give Up' an inspirational story of overcoming obstacles
As director of the Innocence Institute of Point Park, Associate Professor Bill Moushey oversees inquiries into claims of wrongful conviction and teaches two related courses -- communication law, and interviewing and reporting.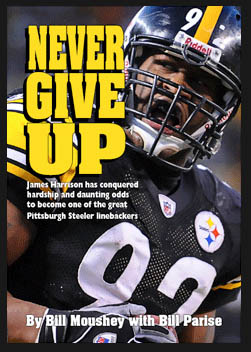 With that focus on hard news journalism, how did Moushey come to write a book about Steelers star linebacker James Harrison?
The project grew from a combination of hometown familiarity - both Moushey and Harrison grew up in Northeast Ohio and went to Kent State University - and a journalist's initiative.
"I saw a story in the New York Times about Harrison that pointed out some pretty interesting things in his past," Moushey explains. "I wrote his agent a letter saying somebody needs to write about this guy, and the next thing I know, I was doing it."
The result is "Never Give Up," written by Moushey with Bill Parise, Harrison's agent, who provided invaluable insights into Harrison's life story.
The hardcover book traces how Harrison grew from being an extremely shy child growing up in Akron, Ohio, to one of the NFL's best defensive players. Along the way, Moushey writes, Harrison overcame a series of daunting events that could have put him behind the wheel of a truck, a career he considered after being cut four times by NFL teams.
"It's an inspirational story about a guy who's had his behind kicked over and over again, and keeps coming back," Moushey said.
The book includes candid chapters on an episode of domestic violence and the mauling of Harrison's young son by Harrison's dog.
"I would not have done the book unless he went through everything in his life," Moushey said.
"Never Give Up" is available online, as well as at Pittsburgh area bookstores and Giant Eagle grocery stores in the region.