more news
Broadcast Major Interning at MTV Networks
Thursday, June 28, 2012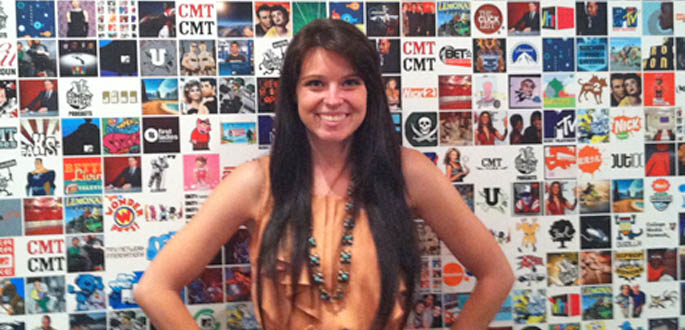 Meet Alicia Lyons
Major: Double majoring in broadcasting and secondary education-mass communication
Intern position: Home entertainment intern, MTV Networks, New York City
Expected graduation: Fall 2013
College activities: U-View, National Broadcasting Society, Campus Life, cheerleader, waitress
Hobbies/interests: Going to concerts, vintage shopping, spending time with people I love
Hometown: Belle Vernon, Pa.
What's a typical day like at MTV Networks?
This summer I am interning for the Home Entertainment Department at MTV Networks. Some of my duties include assisting with video editing and production for bonus feature material (new show promotions that air on iTunes or DVD bonus material), reviewing video content to make sure that it is in good condition/ready to be purchased, checking that recently aired shows are available for purchase on platforms like iTunes and Amazon, and researching information for new consumer products associated with MTV.
How have you applied the skills you learned at Point Park to this internship?
So far my editing and production skills have come into great use. At Point Park, I learned how to use Final Cut Pro and my internship supervisors were pleased to know that I was proficient in that editing software. The facilities and equipment at Point Park are such a great resource for students. Also, clubs like the National Broadcasting Society have prepared me to professionally network and work on projects in this type of atmosphere.
Why did you choose to attend Point Park?
I knew from day one that Point Park's broadcasting program was the perfect fit to advance my studies. I truly believe I wouldn't have had the opportunity to intern at MTV if I attended a different university. I also love the urban campus and the small class sizes. The professors get to know their students and encourage you to do well.
In what ways do you think this internship will help you with your career goals?
I've dreamed of working for MTV ever since I was a child. There are no words to express how grateful I am to have this incredible opportunity as a college student. This internship has given me an idea of what it's like to work for a major media organization. It's taught me how to adjust to living in a big city, how to use public transportation, and it is proving that I chose the right career path.
Anything else you would like to add?
If you have a dream, follow it. With hard work, faith and passion for what you love, I believe you can achieve success.