more news
Broadcasting Alumna Mary Ours is a Weather Anchor/Reporter at WTOV-TV
Tuesday, February 17, 2015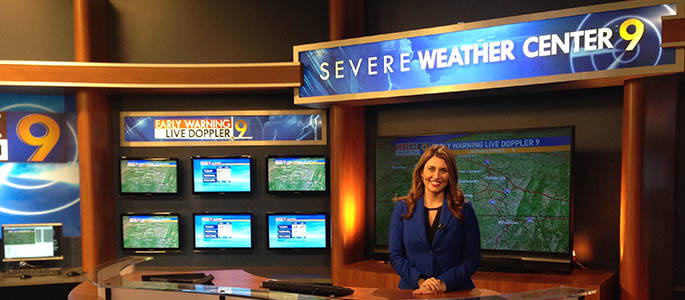 Meet Mary Ours
Degree earned: B.A. in broadcasting, 2012
Job title and employer: Weather Anchor/Reporter, WTOV-TV, Steubenville, Ohio
Hometown: Beaver Falls, Pa.
Now living in: Steubenville, Ohio
High school: Beaver Falls High School and Lincoln Park Performing Arts Center
College activities: U-View
Hobbies/interests: Singing
Twitter: @MaryWTOV9
LinkedIn: https://www.linkedin.com/pub/mary-ours/19/948/36a
What's a typical day like for you?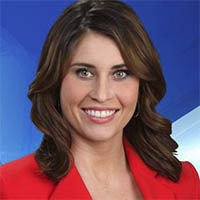 Some days I report and other days I fill in for our morning meteorologist or our chief meteorologist. I'm the weekend weather anchor so I do a double shift on Saturdays for the morning and evening show and also do the Sunday evening show.
In what ways did your Point Park experience prepare you for your career?
I would not be where I am in my career if it wasn't for all of the journalism courses that I took. I was never the best writer and I have to thank my professors at Point Park for everything they taught me.
Please list the internships you had as a student.
What was it like going to school in Downtown Pittsburgh?
I loved every second of going to school in Downtown Pittsburgh! I am from the Beaver Falls area and wasn't used to being in a city environment. Everything was so close and so convenient. There was always something to do and a friendly face to see.
What is one of your favorite Point Park memories?
My favorite memory in college was going to Prague as part of the International Media Class trip. I got to lug a camera around to do interviews, visited media sites and explored Prague.
What are your career goals?
In the next year I should be finishing up the broadcast meteorology program at Mississippi State University and will have a broadcast meteorology certificate. In a few years I would like to move south to work at a bigger television market. I would love to work for one of the top 10 markets before I'm 30!
More About: success story, internships, Lincoln Park Performing Arts Charter School, broadcast reporting, Downtown Pittsburgh, International media trip