more news
Center for Media Innovation a Hub for Students, Local Media and Downtown Community
Tuesday, May 24, 2016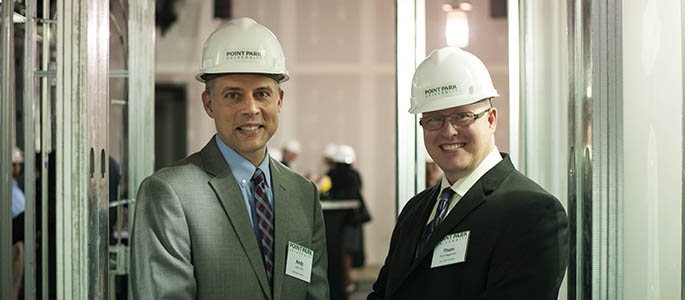 Point Park University's new cutting-edge Center for Media Innovation - set to open September 2016 - will serve as a learning lab for students, as well as a hub for local media and the Downtown Pittsburgh community.
Point Park alumni and members of the media got a behind-the-scenes look at the 4,000-square-foot center during a hard hat tour and reception May 5.

"The goal is for our students to come out of the center prepared to write/edit, shoot video, take photos and pull it all together," said Andrew Conte, director of the Center for Media Innovation. "For the media, it's my hope that you will feel like this is your space to come in and use it for training or have meetings and events. I'm really excited about the potential."

During the tour, guests explored the key areas in the media innovation lab, including:
Multimedia newsroom
Television and radio broadcast studios
Photo studio
Transformational presentation and gallery space
"I was very excited to see the center before it opened," said Kim Palmiero, managing editor of Gateway Newspapers for Trib Total Media and president of the Press Club of Western Pennsylvania. "I think the center will really put Pittsburgh on the forefront of providing training for journalists and developing ideas."
Brian Cook, Sr., web content manager and national reporter for American Urban Radio Network and vice president of the Pittsburgh Black Media Federation, said he attended the tour to find out more about what the center will offer students.
"The Pittsburgh Black Media Federation hosts the Frank Bolden Urban Journalism workshop at Point Park," he said. "Our students come through that program leaps and bounds ahead of their peers and we see them get jobs in the field. We love Point Park and everything it has to offer."
Designed by Pittsburgh-based GBBN Architects, the center will cost $2.5 million to build and is made possible, in part, with a grant from the Allegheny Foundation. Trib Total Media is a sponsor of the center.
Photo Gallery
Video Playlist: Walkthroughs of the Center for Media Innovation
More About: Downtown Pittsburgh, Center for Media Innovation, School of Communication