more news
Center for Media Innovation Hosts Stories from the Presidential Campaign Trail
Monday, October 3, 2016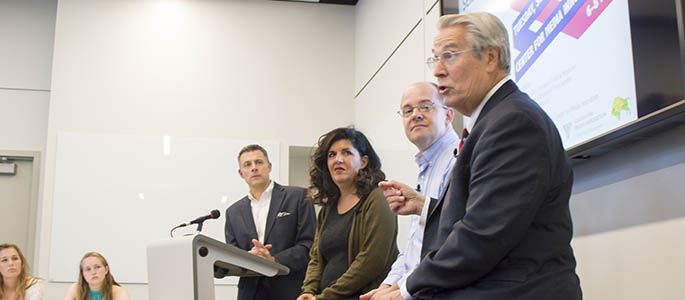 (L-R) Andrew Conte, Salena Zito, Chris Potter and Jon Delano in the Center for Media Innovation.
One day after the most-watched presidential debate in American history, dozens of Point Park University students gathered in the Center for Media Innovation to listen to presidential campaign stories from three top political reporters in Pittsburgh.
Photo Gallery
---
Learn More
Andrew Conte, the center's director, moderated, as Jon Delano (political analyst, KDKA-TV), Salena Zito (columnist, New York Post) and Chris Potter (staff writer, Pittsburgh Post-Gazette) answered questions and shared their opinions on the heated debate between Hillary Clinton and Donald Trump.
Delano: Print vs. Television
Delano began the series speaking about the differences between print and television journalism.
"While I was interviewing Secretary Clinton the last time she was in town, I told her campaign staff … I need more than just three questions. The longer you can give me with her, the longer air time we can guarantee," Delano said. "We have a bias in television to be visual, so we want Clinton and Trump to be yelling at one another, that's what people want to see on the evening news. We also want to be able to connect this individual to Pittsburgh, it's not always about the policies. When Clinton came to Pittsburgh in April, her campaign manager told me she would be stopping at Primanti's. People are interested in those types of stories."
Zito: My Encounter with Trump
Zito jumped in with her personal encounter with Donald Trump.
"Once, after I was done interviewing Trump, he told me to continue to walk with him. Along the way we saw dozens of people on his wait staff. I always judge someone's character by how they treat the people who work for them … and he was remarkably wonderful," Zito shared. "I asked him what he wants people to know about him that they might not know, and he told me that he wants America to know that he is genuinely a nice person."
Potter: The Role of Social Media
Potter had taken some questions from students on the role of social media during a huge debate. He told students: "You have more power than you think you do on social media. We as journalists listen to you and want to answer your questions."
Delano ended the discussion with what we can expect from the candidates in coming weeks.
"The candidates will be all over us. This state is up for grabs," Delano said. "Pennsylvania is a real decider in this 2016 election."
Article by Chelsea Pompeani, media innovation specialist
Photos by Shayna Mendez, a senior photojournalism major
More About: KDKA, Center for Media Innovation, student workshop