more news
Communication Grad and International Student Credits Point Park for Success
Friday, June 7, 2013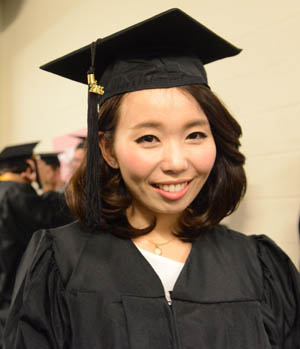 Point Park's School of Communication provided international and transfer student Shiho Nagai the opportunity to study advertising, earn a college degree and secure a job after graduation.
The native of Tottori, Japan - who earned a B.A. in public relations and advertising with a minor in multimedia in May - recently accepted a job in promotions and digital marketing at Trans Cosmos in Tokyo. Nagai began her college career at a school in Ohio before transferring to Point Park in 2010.
"I was very nervous when I came to study in the United States because I didn't know the language," Nagai said. "I focused on my studies, made new friends and had so many great experiences at Point Park."
Bob O'Gara, public relations and advertising professor and Nagai's faculty advisor, said that she completely overcame the language barrier.
"I met Shiho the first day she came to campus. She's bright, thoughtful and has a good creative streak," said O'Gara.
At Point Park, Nagai completed an internship with the Japan-American Society of Pennsylvania, served as a volunteer for various organizations in the Downtown Pittsburgh community and worked in the Office of International Student Services and Enrollment.
Rebecca Lee, director of International Student Services and Enrollment, said it was wonderful to see Nagai develop and mature as a young professional.
"Shiho was pleasant, but an introverted young lady when she first arrived," Lee said. "She truly pushed past her comfort zone when she transferred from a small college town in order to go after career opportunities."
Added O'Gara, "Shiho has a really bright future in international communications, a fast-growing area in public relations and advertising."
More About: international, internships, public relations and advertising