more news
Communication, History and Honors Students Travel to Washington, D.C.
Tuesday, December 2, 2014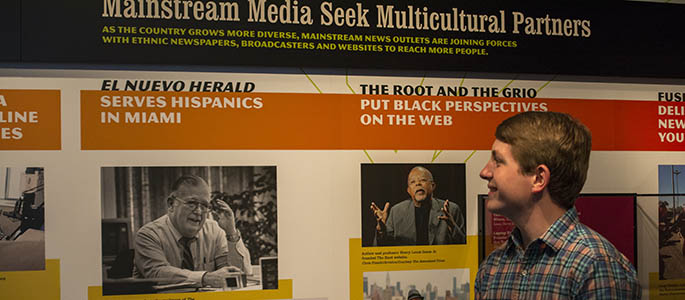 Journalism major Philip Poupore at the Newseum.

Point Park School of Communication, history and Honors Program students traveled to Washington, D.C., during the fall semester to explore media and history in the nation's capital.
The group of 35 students visited a variety of sites including:
"My favorite media visit was the BBC. It was so cool to see their studio and learn about the Washington, D.C. outlet," said Maggie McCauley, a sophomore double majoring in broadcasting and public relations and advertising.
For Tracie Cardone, a senior history major, her most memorable experience was the visit to the Holocaust Memorial Museum.
"We had the opportunity to meet with a survivor from the Holocaust. He told his story very well and I think that he touched the hearts of all of us," Cardone said. "I learned so much on this trip and gained so many new perspectives."
Also during the trip, the group enjoyed a networking dinner with Point Park alumna Meagan Stroud, catering and conference services manager at The Jefferson, Rebecca Rorke, director of development and external relations at Kirov Academy of Ballet, and Carla Mitchell, chief financial officer at Junior Research Scholars, Inc.
"We had so much fun eating dinner and talking to alumni, seeing professionals in their field and sightseeing," added McCauley.
Heather Starr Fiedler, Ph.D., associate professor of multimedia, Steve Hallock, Ph.D., associate professor of journalism, Aimee-Marie Dorsten, Ph.D., assistant professor of journalism and mass communication, and Christopher Rolinson, associate professor of photography, accompanied the students on the trip.
"I would recommend this trip because it was a great experience. I got to explore a city that I've never been to before and it was so much fun," said Jessica Federkeil, a freshman journalism major.
Photos by Christopher Squier, senior photojournalism major
More About: broadcast reporting, multimedia, public relations and advertising, history, photojournalism, Honors Program, journalism, Washington, D.C. trip, student trips