more news
Communication Student Receives Media Association of Pittsburgh Scholarship
Thursday, April 4, 2013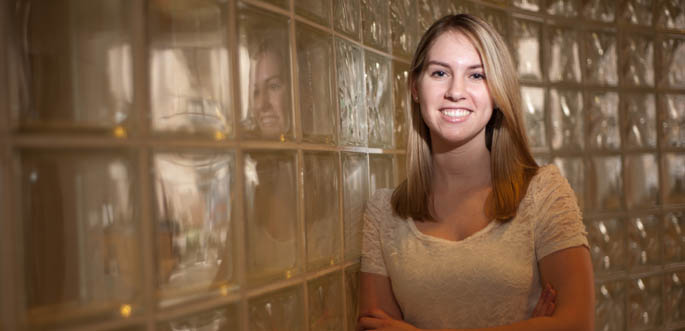 School of Communication student Kim Roberts is the recipient of the 2013 Media Association of Pittsburgh Scholarship. The $1,500 scholarship is awarded to college students in the Pittsburgh area who are pursuing degrees in the field of media and communication. Roberts will be awarded the scholarship at the organization's awards banquet on April 25. The Media Association of Pittsburgh is an organization dedicated to the media professions Point Park graduates are preparing to enter upon graduation. Association members represent accomplished professionals in all of the traditional and social media as well as executives from leading advertising and marketing communications agencies.
Meet Kim Roberts
Major: Double majoring in public relations and advertising and multimedia
Expected graduation: May 2015
Hometown: Elizabeth, Pa.
High School: Wilson Christian Academy, West Mifflin, Pa.
Hobbies/interests: I am a lifelong dancer and take tap, ballet and jazz classes. I love seeing performances right down the street at the Benedum Center, I am an avid Pittsburgh sports fan, and I love to read and listen to music.
Campus activities: I am an Honors Program student, a member of the Body Christian Fellowship, the Society of Professional Journalists, and a co-features editor for The Globe. Plus, I take advantage of the yoga and Zumba classes on campus.
Why did you transfer to Point Park?
After one semester at my previous college, I knew that a university in Downtown Pittsburgh with great programs and small class sizes would be a better fit for me. My admissions counselor was a huge help in making the transfer process smooth. All of my classes transferred, so I didn't lose a single credit. I've gotten to experience and learn so much since my transfer to Point Park, and I'm incredibly happy that I made the decision to start over at a college that was so much better suited to me.
What was it specifically about the School of Communication that made you choose Point Park?
The best part about Point Park's School of Communication is the professors. They are professionals who are currently in the fields that they teach, so they know what skills are the most important for students to learn. Plus, they are able to give current and relevant examples of the situations and challenges they face in their own careers every day.
How do you feel about the School of Communication's facilities?
Point Park has plenty of facilities that have been useful for hands-on learning in my classes. I have spent many hours in the Mac computer labs learning the basics of Adobe Photoshop, InDesign, and Dreamweaver for design projects, as well as learning editing and blogging skills with iMovie and Wordpress for my multimedia classes.
Why is a double major a good fit for you?
I think that a double major in public relations and multimedia will prepare me for many types of communications jobs. All work places need a communications department, and I would like to be able to be a positive representation of a company or organization and help it interact with the public and reach its goals.
What are your career goals?
Ideally, I would love to combine my passions for communications and the arts. As a lifelong dancer, the arts mean the world to me. To be able to be behind-the-scenes and contribute to making a production come alive through a career in communications would be an incredible and fulfilling experience.
I am thrilled to have some incredible internship opportunities lined up for this year. This summer, I will be a public relations intern for the Pittsburgh CLO. In the fall, I will be the public relations intern for Pittsburgh Ballet Theatre. I am beyond excited for these opportunities at some of Pittsburgh's most respected arts organizations.
My time so far at Point Park has given me the opportunity to pursue what I love and make the most of my college experience.