more news
Dumova Serves as Respondent at Communication Conference
Thursday, August 2, 2012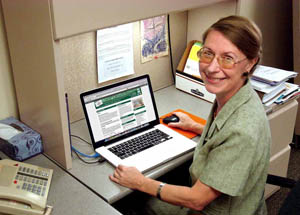 Associate Professor Tatyana Dumova, Ph.D., served as a respondent at the Virtual Conference of the International Communication Association, part of the annual convention in Phoenix, Ariz., held May 24-28.
Dumova's role as a respondent included providing commentary on research papers and engaging in asynchronous discussions with virtual presenters and attendees. She has since published a conference report reviewing the state of virtual conference technology.
"Although totally replacing face-to-face conventions with virtual conferences is not yet on the agenda, there is no doubt that virtual conferencing, especially in the hybrid form, will continue to grow due to the level of flexibility and the numerous benefits they provide to participants," wrote Dumova. "Virtual conferencing is an efficient and cost-effective technology that provides an alternative to location-based meetings and has the potential to alter the future of conferences, conventions and trade shows."
At Point Park, Dumova teaches applied mass communication research methods, technology mediated communication, communication theory, technology and culture, and multimedia.
"It is important to keep pace with technology," she said. "I will use this knowledge of the latest developments in virtual conferencing technology in my classes to provide students with real-life examples."
Learn more
Learn more about Point Park University's School of Communication.
Reference:
Dumova, T. (2012). 2012 Virtual Conference of the International Communication Association, May 14-June 8. International Journal of Interactive Communication Systems and Technologies, 2 (1), 79-84.