more news
Faculty, graduate students present at Eastern Communication Association Convention
Wednesday, May 16, 2012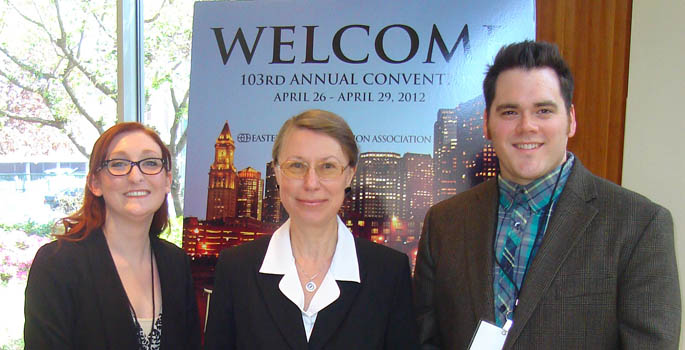 Heather Hanson, Dr. Tatyana Dumova and Ivan Moore 

Tatyana Dumova, Ph.D., associate professor in the School of Communication, and two graduate students presented their research papers at the annual Eastern Communication Association Convention April 26 - 29 in Cambridge, Ma.
Heather Hanson, M.A./M.B.A. student, and Ivan Moore, M.A. in journalism and mass communication student, became interested in research after taking the course Applied Mass Communication Research Methods taught by Dumova.
"This is the first time Point Park graduate students have presented at a communication convention at this level," said Dumova. "Both students wrote full-length research papers and received positive feedback for sound research methods, good papers and excellent presentations."
The presentations included:
Heather Hanson, "Analysis of Sources and Frames in New York Times Reporting on the 2010 Gulf of Mexico Oil Spill"
Ivan Moore, "Evaluating the Role of Parasocial Interaction in the Microblog Marketing Campaigns of World Wrestling Entertainment"
Tatyana Dumova, Ph.D., "Integrating Information Literacy and Usability Assessment: Developing User Skillfulness in Web Search"
At the conference, the students met and interacted with over 700 faculty, doctoral and master's students.
The ECA is the oldest professional communication association in the United States. Next year's Convention will be held Apr. 23 - 28 at the Omni William Penn Hotel in Pittsburgh.