more news
Faculty Profile: Meet Robin Cecala, Broadcast Production
Monday, June 11, 2012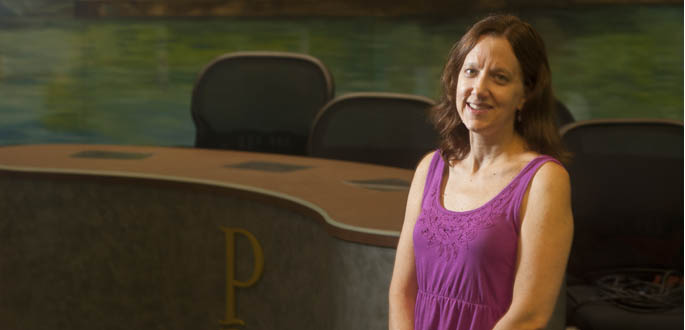 Robin Cecala, Ph.D., studied Communication at State University of New York at Fredonia, Multimedia Technology at Duquesne University and Mass Communication at the University of Southern Mississippi - earning a Bachelor of Science, a Master of Science and a Doctor of Philosophy.
Why did you choose to teach at Point Park?
I had an opportunity to come to Point Park in the summer of 2011. I wanted to get back into teaching after completing my Ph.D. and it was a great time in my life to make the move to Pittsburgh. I also liked the facilities the School of Communication at Point Park offered students.
What makes the School of Communication so unique?
The fact that Point Park is located in the center of Downtown gives students a considerable number of opportunities to do internships and get other real world experiences that students in more suburban university locations cannot get. Also, in terms of technology, the equipment that production students use is very similar to what people are currently using in the industry. This means that students are not only getting a good theoretical knowledge, but they are learning to use the tools that professionals in their chosen field are also using.
What classes do you teach?
Broadcast Copyrighting
Broadcast Writing & Editing
Communication Law & Regulation
Media Ethics & Responsibility
Video Production & Editing I
Video Production & Editing II
How would you describe your teaching style?
It is important to use technology and bring in as many current examples, projects and case studies as possible. I think that by doing this students see the principles and theories we discuss applied in the real world. My style does change somewhat based on the class. For production classes, I like to do hands-on projects where I can work closely with the students. I also like to provide additional feedback that is tailored towards each student's strengths and weaknesses. In a lecture-style class, I try to elicit as much interaction as possible for the subject we are discussing.
What advice do you have for prospective students considering a career in communication?
I think it is important for students to understand that communications can be a great field that allows people to work in a wide variety of industries. It can also be a difficult field. It is important to be creative, a good writer and a hard worker. If students have those qualities, they can achieve a great deal of success.