more news
Faculty Profile: Robert Meyers, Graphic + Interactive Design
Wednesday, April 29, 2015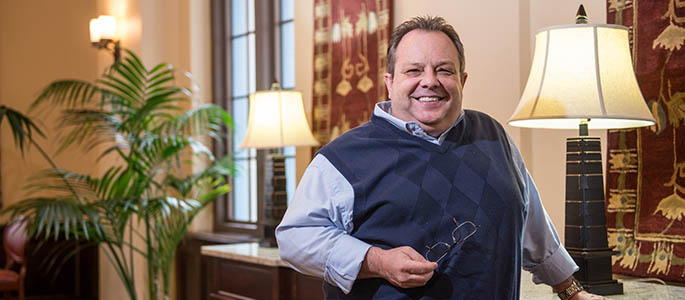 Update: Robert Meyers is an associate professor of Point Park University's graphic + interactive design major.
---
Robert Meyers earned a B.F.A. in graphic design from Bowling Green State University and an M.F.A. in graphic design from Kent State University. Meyers is the owner of Robert Meyers Design, located in Downtown Pittsburgh and Las Vegas, designer/project manager for internationally-renowned designer Saul Bass in Los Angeles and an art director at R & R Advertising in Las Vegas.
What is your approach to teaching?
It's very important for my students to learn the aesthetics and design principles first. Learning the foundation helps them to understand the process of completing an assignment. I bring in real-world projects that I'm working on as examples of projects from beginning to end.
Advertising Copywriting
Desktop Publishing
Advertising/PR Graphics
Branding and Identity Design
Visual Communication Design
Typography
Package and Retail Design
Graphic Design Illustration
What inspires you to teach?
My students. I love working with the students. There is nothing better than when you can see in a student's eye and you can hear it in their voice that they get it. That's when the love of what they are doing comes out.

As a teacher, I want the quality of my students' work to be the highest it can be, so I do as much as I can to encourage them to do their work and redo it again to be the very best.
What do you like most about teaching at Point Park?
One of the things I love about Point Park is the location in Downtown Pittsburgh. Once or twice a semester, I take my students on a design walk to explore the examples that are all around us.

Another reason I love teaching at Point Park is the students. My students want to learn and they are just a pleasure to teach.
More About: Downtown Pittsburgh, School of Communication, graphic design, faculty, multimedia