more news
Faculty profile: Tatyana Dumova, associate professor of multimedia
Friday, January 20, 2012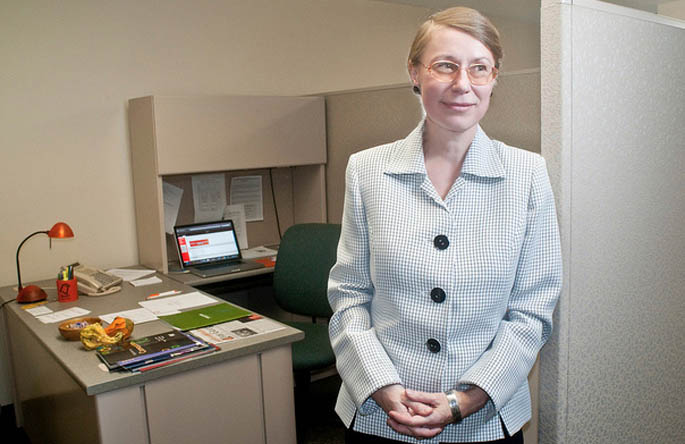 Meet Tatyana Dumova
Associate Professor Tatyana Dumova, Ph.D., has been teaching multimedia and communication classes at Point Park University since 2009. She earned a bachelor's degree in English from Moscow State Linguistic University and both a master's degree in history/mass communication and Ph.D. in communication studies from Bowling Green State University. Dumova has recently published two books on social media and is the editor-in-chief of the International Journal of Interactive Communication Systems and Technologies. View Dumova's full bio.

Why did you choose to teach at Point Park University?
I came to Point Park to become part of a team effort to conquer the new frontiers of multimedia journalism, not mentioning that the Journalism & Mass Communication program at Point Park University has a high national standing and is known for its innovativeness and excellence.
What classes do you teach?
I teach undergraduate and graduate classes in multimedia and mass communication. Among them are courses that help develop competencies in visual communication design, advertising & PR graphics, desktop/electronic publishing, and conceptual courses that focus on communication theory, research methods, technology mediated communication, and other topics. I also work with graduate students pursuing their own research and conducting independent studies.
How would you describe your teaching style?
I believe that each and every student has the potential to succeed. In the classroom, I practice student-centered pedagogy grounded in the recognition of various learning styles, the use of active learning techniques, and the latest instructional technology tools.
What are some projects that students can expect to work on in your classes?
Students can expect to work with the industry-standard digital imaging, page layout and graphic design technologies and applications. Class projects are meant to closely resemble the professional assignments that students may have after graduation. All my students can expect to receive individual attention and be challenged. I am a strong believer in Vygotsky's theory of proximal development, which individualizes education and centers on the potential development of every learner. Point Park offers small classes that are conducive to creating a personal learning environment for everybody.
What advice do you have for students considering a career in multimedia and communications?
Do not focus just on software-related skills since technology evolves constantly. Learn fundamental principles and develop versatile competencies, which will help you stay current and succeed in the technology-driven and ever-changing world.