more news
Founder of 'Eat That, Read This' Blog Visits Point Park
Friday, August 12, 2016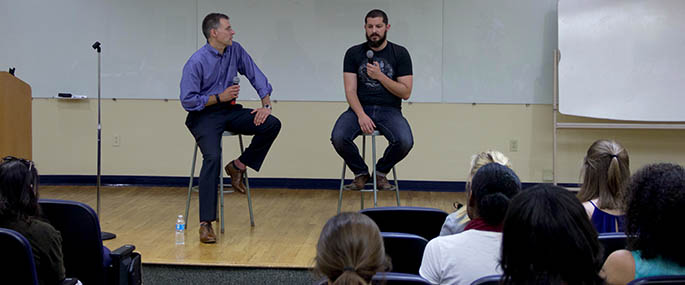 (L-R) Andrew Conte, director of the Center for Media Innovation, and Adam Shuck, local blogger, in JVH Auditorium
For local blogger Adam Shuck, what started out as an email to 30 friends with links to the day's top headlines - accompanied by his commentary about the stories - has skyrocketed into a blog with more than 4,800 followers.
Video: Adam Shuck at Point Park
---
Related links
Shuck - creator of Eat That, Read This - came to campus to talk about his full-time job as a blogger with interns from the Pittsburgh Post-Gazette. The presentation was hosted by Point Park University's new Center for Media Innovation, set to open September 2016.
"I started this blog just for fun," said Shuck. "I'm adding commentary and I'm making statements. I'm not trying to replace the efforts of local newspapers, and I'm certainly not doing the news gathering or writing; I'm just aggregating."
Lacretia Wimbley, a recent graduate of Mississippi State University's journalism program and a Post-Gazette intern, said she enjoyed learning more about how Shuck puts his own spin on the stories in his blog.
"I'm trying to figure out what new I can bring to the table in journalism as I embark on my career," Wimbley said. "I think what Adam is doing is very interesting. His presentation was eye opening and provided me with a different take on journalism."
During the question-and-answer session, Shuck was asked about his relationship with the content creators, and provided insight on his business model and marketing strategy.

Shuck added, "With Eat That, Read This, I'll just keep doing it until it stops being fun."

Prior to Shuck's presentation, interns got a behind-the-scenes look at the new Center for Media Innovation. Check out photos from their visit as well as more photos from the event.
---
Conte's Corner: Choose a Side
Blog by Andrew Conte, director of Point Park University's Center for Media Innovation

For real objectivity, pick a side this election season.
Photos: CMI Tour, Shuck Presentation
At least that's the advice of Adam Shuck, founder of the daily news blog Eat That, Read This, who recently visited Point Park University. Shuck has come out strongly against so-called "bothsidesism."
Journalism professors have taught generations of students that the clearest path to objectivity comes from presenting equally both sides of every issue.
That works perfectly for covering a car crash or a crime scene. But many people, like Shuck, question what that means for a political election.
The problem comes when journalists simply provide comments from each major candidate - literally this presidential election, he said/she said - without critical analysis.
As journalists have abdicated the role, comedians such as John Stewart and John Oliver have stepped into the game. Often with their sharpened perspective, they have raised issues and asked questions that journalists have not.
I tried practicing disconnected objectivity as a young reporter by not voting in the 1996 presidential race between incumbent Democratic President Bill Clinton and Republican Bob Dole. I felt disenfranchised for not having my vote count, and dishonest for pretending like I had not made a choice.
To me, it ultimately made more sense to admit to myself that I have particular feelings about issues and then to make my reporting as clear and unbiased as possible. The ultimate goal then does not become presenting my work as thoughtless, but as reliable and fair.
Ironically, reporters faced with the dilemma of not choosing often know the candidates better than anyone. They are among the few people with almost daily contact with candidates on both sides. They know these people on a personal level and see their blemishes up close.
News consumers, then, should expect these journalists to provide honest, accurate assessments - rather than none at all.

Photos by Shayna Mendez, senior photojournalism major
More About: Downtown Pittsburgh, School of Communication, Center for Media Innovation, journalism, faculty, internships