more news
Graduate Student Research Featured at Communication Conference
Friday, October 3, 2014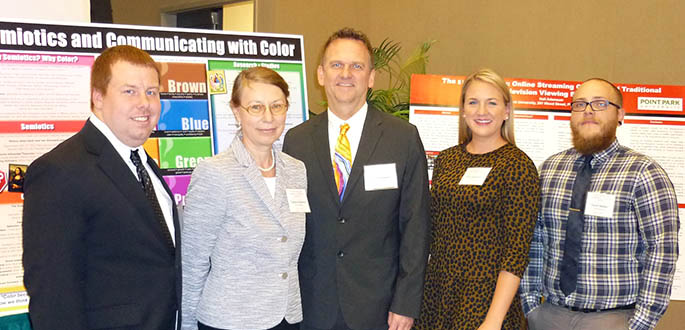 Daniel Hepple, Tatyana Dumova, Ph.D., Dean Simpson, Hali Adamson and David Walker 
The impact of communication technology on society was the focus of the work of seven School of Communication graduate students featured at the 75th annual Pennsylvania Communication Association conference, held Sept. 26-27 at Duquesne University.
"This is the largest group of Point Park graduate students to present juried research at a state communication convention," said Tatyana Dumova, Ph.D., associate professor of multimedia, who supervised student projects. "All students submitted research papers that were reviewed by faculty from Pennsylvania colleges and universities."
At the conference, the students interacted with more than 100 faculty, doctoral and master's students from around Pennsylvania.
"I enjoyed learning about other people's research and picked up a great deal of helpful feedback regarding my research on semiotics. It gave me some ideas for further study," said Dean Simpson, an M.A. in communication technology student.
Research presentations included:
Hali Adamson, M.A./M.B.A., "The Netflix Nation: Online Streaming Content and Traditional Television Viewing Behavior."
Vito Caprio, M.A. in Communication Technology, "The Disability Divide: Understanding the Adoption of Internet-Based Communication Technologies by People with Disabilities."
Heather Gustine, M.A./M.B.A. alumna, "A Study of the Effects of Source Labels on College Students' Interest in Political News."
Meghan Happ, M.A./M.B.A. alumna, "Digital Photo Manipulation in Advertisements and its Effects on Women's Body Image."
Daniel Hepple, M.A. in Communication Technology, "Semiotics of Computer-Mediated Communication."
Dean Simpson, M.A. in Communication Technology, "Semiotics and Communicating with Color."
David Walker, M.A. in Communication Technology, "Viral Marketing: Diffusion of Innovations in the Modern Age."
"Research provides us with insight to better understand and articulate our ideas so that our field of study can continue to grow and evolve," said Walker.
"As scholars, we have to identify trends in different subjects. Research is key to identifying those trends," explained Hepple.
By conducting research, graduate students engage in high-impact educational practices associated with successful learning and personal growth. Faculty-led research activities are particularly emphasized in the recently launched M.A. in communication technology program at Point Park.
"Participating in the conference challenged me to think critically, theoretically and creatively about my subject," said Adamson. "Having the opportunity to bounce ideas off of other scholars in the field was beneficial too - I'm amazed at how many innovative concepts for future research we were able to come up with."
More About: faculty, research, M.A./M.B.A., graduate programs, M.A. in communication technology, conference