more news
High School Media Day 2018: Students Hear First-Hand About Tree of Life Shooting from City of Pittsburgh's Public Information Officer
Wednesday, November 14, 2018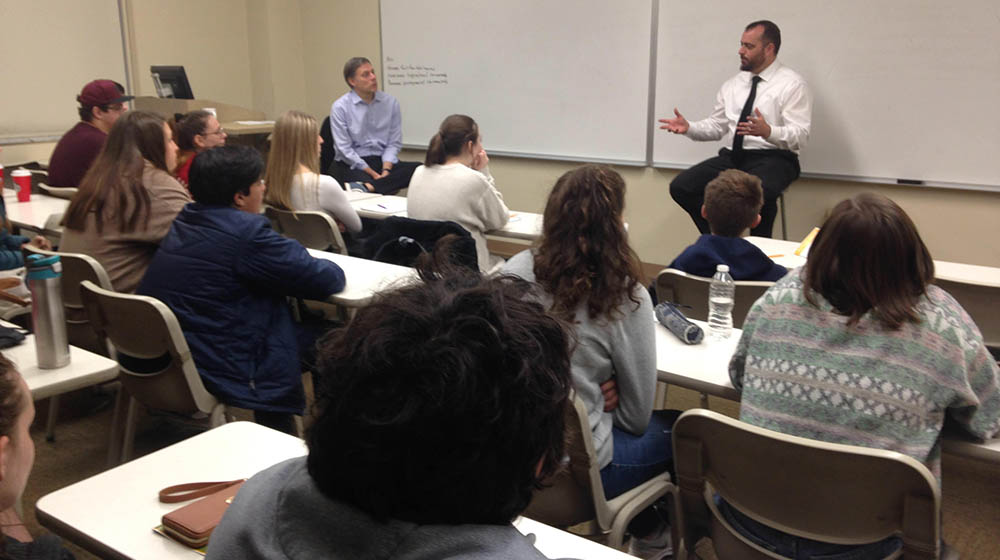 (L-R) Andrew Conte, director of Point Park's Center for Media Innovation, and Chris Togneri, City of Pittsburgh's public information officer
"My job is to tell the whole story of public safety."
Chris Togneri, public information officer, City of Pittsburgh
At Point Park University's High School Media Day Nov. 2, students heard first-hand from the City of Pittsburgh's public information officer about the shooting at the Tree of Life synagogue in Squirrel Hill.
As public information officer, Chris Togneri – a part-time instructor in Point Park's School of Communication – relayed a constant stream of information from police to media during the shooting, when a gunman killed 11 congregants in an alleged anti-Semitic hate crime Oct. 27.
"They wanted all the information to come from one place," Togneri said.
Gov. Tom Wolf, Pittsburgh Mayor Bill Peduto, U.S. Rep. Keith Rothfus and U.S. Rep. Conor Lamb were among officials to arrive at the scene.
Togneri's first report was with an unconfirmed number of those who had been fatally shot, so he had to relay that there were "multiple casualties."
"I went to the media and said, 'The shooter is in custody. We don't know if there's another shooter. It's still a very dangerous scene. There could be any number of possibilities still that we have to address, but we can confirm there are multiple casualties inside and at least three officers shot,'" Togneri told the students.
That statement was filmed and used by local and national media alike, so widely broadcast that his wife took a photo of his son seeing it on CNN.
One visiting student asked Togneri, with 20 years as a reporter in Slovakia, California and locally at the Pittsburgh Tribune-Review, if he would recommend journalism experience before other communications jobs, like the one he has held since being named the public information officer in April.
"I never thought I'd be anything but a journalist," Togneri said. "This opportunity came up and I thought, 'It might be kind of fun to be on the other side and have all the information.' As a journalist, you're trying to get all the information, now I have it all … It's very fascinating to be on the inside."
As public information officer, he either is working to communicate information during major incidents, like last month's shooting or finding stories to pitch to media.
He also releases stories directly through the city's public safety department, and is working with Point Park's Center for Media Innovation on a podcast that features different glimpses behind the scenes.
"My job is to tell the whole story of public safety," he said.
When one student asked if he ever got attached to people who were a part of the stories he reported, Togneri said covering major disasters always requires forming relationships.
He recalled reporting on the Upper Big Branch Coal Mine explosion in 2010 that left 29 miners dead in West Virginia.
"When they agree to tell you their story, this is the worst moment of their life, and they're inviting you into the darkest place that they'll ever go, trusting you to tell the story right," he said. "You don't just do that with a notebook and a pen, there's a lot more involved."
At the time when he spoke to high school students, less than a week had passed since the shooting and Togneri told them he hadn't had much time to sleep, or process how he was feeling about what had happened.
"When you cover a coal-mining disaster and 29 people are dead, 29 is a lot more than 11, but it's different," he said. "Because coal-mining is a dangerous job and they didn't die because someone hated them, it's a much different situation."
Photo and text by Stacey Federoff, M.A./M.B.A. student and CMI graduate assistant
More About: high school media day, Center for Media Innovation, high school programs, School of Communication