more news
High School Students Become Storytellers at Point Park University's Summer Journalism Workshop
Friday, September 21, 2018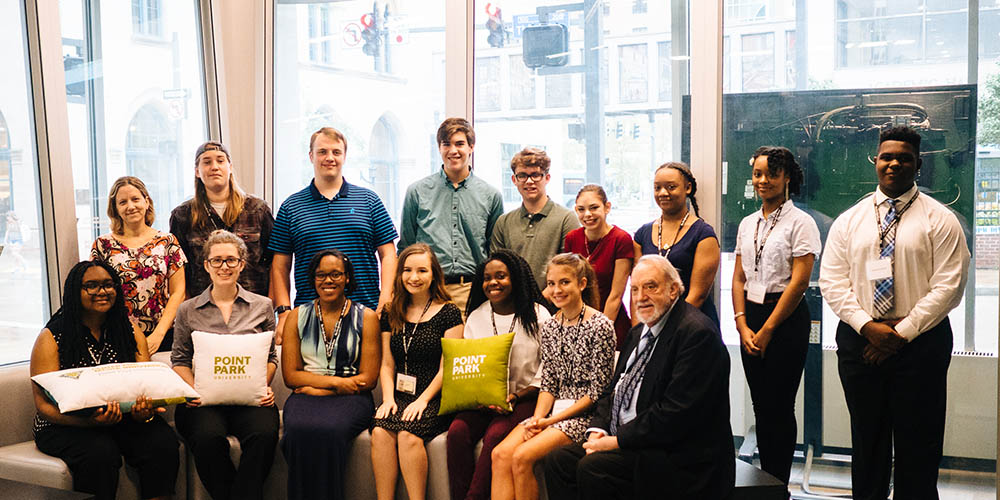 High school students gained experience in writing, interviewing, photography, video and web design at Point Park University's Summer Journalism Workshop, held June 25-28 in the Center for Media Innovation.
"This group tackled tough issues right from the start, interviewing people in Market Square on day one about the recent shooting of Antwon Rose II," said Robin Cecala, Ph.D., associate professor of broadcast production. "They worked outside of their comfort zone and met the challenge head on."
In Their Own Words
Colten Oakes
Senior at Franklin Regional High School
"This is my second time attending Point Park's summer journalism workshop. Television and video production are my passion, and this workshop is the closest thing that I could find to learn more about this field during the summer months. I felt inexperienced the first time I came, but have noticed an improvement in my writing and interviewing skills this time around."
Kaelei Whitlatch
Senior at Southmoreland High School
"My dream job is to be a broadcast journalist. I actually watch the news for fun! Attending Point Park's summer journalism workshop has allowed me to get my creative juices flowing. The Center for Media Innovation is a beautiful space. I've made a lot of friends here and had so much fun going to PPG Paints Arena, a baseball game and so many other things that I've never done before."
Joey Bova
Junior at Bethel Park High School


"The summer journalism workshop has been an interesting and new experience for me. It was a fun week learning about about the field that I hope to pursue when I go to college. I'm excited to share what I learned when I go back to school this fall."
Miracle Bynum
Sophomore at Avonworth High School
"I want to be a broadcast journalist and attending this workshop has shown me this is definitely what I want to do. I'm taking journalism courses at my high school and this experience at Point Park has given me a jump start for college. I love being in the city and living on a college campus for the week. I can't wait to go to college!"

Photo Gallery
Photos by Jared Murphy, sophomore photojournalism major
More About: summer media workshops, Avonworth High School, School of Communication, Center for Media Innovation, Southmoreland High School, alumni, faculty, Bethel Park Senior High School, PPG Paints Arena, Franklin Regional High School