more news
High School Students Explore Careers in Journalism at Summer Media Workshops
Friday, June 28, 2013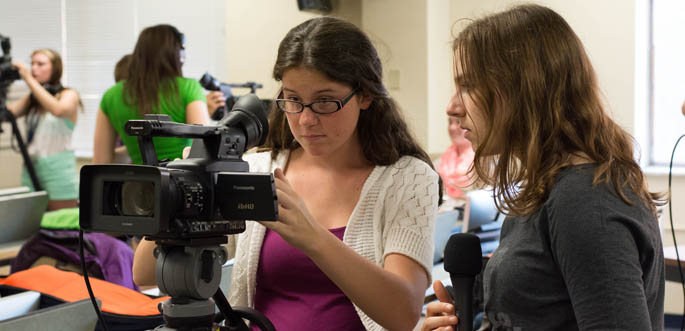 High school students learn how to use digital cameras during the broadcasting reporting workshop.

Seventeen area high school students gained real-life journalistic experience at the School of Communication's Summer Media Workshops, held June 16-21 on Point Park's campus.
During the interactive sports and arts and entertainment media workshops, students networked with local experts in the field from the Pittsburgh Tribune-Review, Pittsburgh Post-Gazette, CW Pittsburgh and the Pittsburgh Cultural Trust.
Photos
---
Related links
School of Communication
High School Programs
Facilities and Equipment
Off-campus tours took them to PNC Park, Consol Energy Center and Stage AE. They enjoyed the sights and flavors in Downtown Pittsburgh at the Three Rivers Arts Festival, and even got a view of the city riding the Duquesne Incline.
Here's what participants had to say about this year's workshops:
"I really liked living on Point Park's campus because of the location. This week helped me decide that I want to attend a college in a city like Pittsburgh." - Anna Cunningham, Shaler Area High School.
"I want to be a news anchor, so my favorite experience was working in the TV studio and getting on-camera experience. I would recommend this workshop to students who are truly passionate about this field. It gave me such an outstanding example to what I want to do in my career." - Hannah Lapiska, Avonworth High School.
"This is my second time doing this workshop. I highly enjoyed it last year, so I wanted to do it again before my senior year. I absolutely love Pittsburgh and can't wait to attend Point Park." - Frank Novoa, Wallenpaupack Area High School.
"The media workshops are creative, educational and interesting. The faculty is friendly, helpful and taught us new techniques. Living on campus for a week gave me the feel for the actual college life." - Taylor Yester, McKeesport Area High School.
"I attended the workshops to see if the field of journalism is a good fit for me. I had such a great experience meeting the faculty, using the equipment and bonding with new friends." - Brooke Williams, McDowell High School.
"I have always been interested in photojournalism so I thought this program would really teach me more about my interest. I really enjoyed living on campus, it's so much different than what we're used to in high school." - Aly Weifenbaugh, Plum High School.
Students interested in visiting Point Park's School of Communication are invited to attend a High School Media Day during the fall and spring semester. Registration information will be posted on the High School Programs page.
Photos by Connor Mulvaney, junior photojournalism major
More About: multimedia, summer media workshops, Downtown Pittsburgh, Shaler Area High School, Avonworth High School, broadcast reporting, photojournalism, journalism, high school programs