more news
High School Students Visit Point Park for Interactive Multimedia Storytelling Workshop
Tuesday, August 1, 2017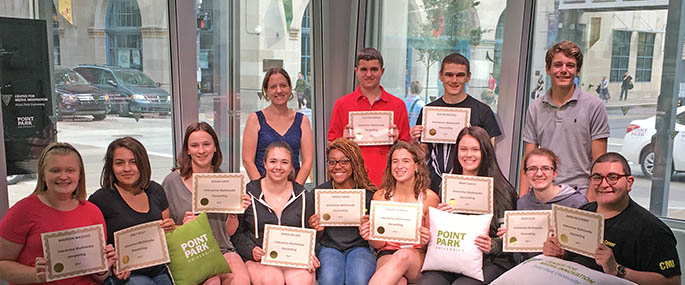 Fourteen high school students explored Downtown Pittsburgh and gained hands-on experience in their career-to-be at Point Park University's Interactive Multimedia Storytelling workshop held July 17-20 in the Center for Media Innovation.
"The students learned about writing, interviewing, photography, video, multimedia and social media," said Robin Cecala, Ph.D., assistant professor of broadcast production. "Using their new skills, they documented their workshop experiences on their own website: hsworkshop.pointparksoc.com."
Off-campus activities included a tour of:
KDKA-TV with Kristine Sorensen, anchor/reporter
PNC Park with alumnus Dan Hart, director of media relations, Pittsburgh Pirates
PPG Paints Arena with alumnus Tom McMillan, vice president, communications, Pittsburgh Penguins
"What I always tell students in any field, is where you will be happy is if you get a job that fits with your personality," said McMillan. "That's why internships are so valuable to find out more about the business and if you like it."
During the week, students also had the opportunity to make friends with high school attendees participating in the Sports, Arts and Entertainment Management workshop on campus.
The workshop concluded with a party in the Center for Media Innovation for students and their parents to celebrate their achievements.
Cecala added: "The workshop went well and the students brought a lot of enthusiasm and excitement to everything that we did."
---
What Students Said About the Interactive Multimedia Storytelling Workshop

Pepcee Drew
Cab Calloway School of the Arts
Dream Job: Journalist
"This camp made me realize what I want to do with my future. I enjoyed learning more about journalism and broadcasting. I had fun at Point Park, and Pittsburgh is one of my favorite places to visit. I do look forward to going to college here."

Amin Megherhi
City Charter High School
Dream Job: Photojournalist
"In addition to writing, I was surprised at how much I learned about photography and videography. I had fun touring all of the places around the city to learn more about what goes on behind the scenes. I hope to one day start a newspaper at my high school."
Aleyna Orth
Wilson High School
Dream Job: Sports Journalist

"It was surprising how much I learned not only from my professors, but from other students in the workshop. Collaborating with students my age helped me improve my writing and communication skills. My favorite part was touring PPG Paints Arena because I got to see and learn things that ordinarily I would not have access to."
Colton DeBiase
Serra Catholic High School
Dream Job: Play-by-Play Broadcaster
"It was great to see all of the opportunities Point Park students have here. I enjoyed watching the noon news in person at KDKA-TV. I will definitely apply the writing skills I learned during my last year of high school."
Mary Shelly
McKeesport Area High School
Dream Job: Journalist (Broadcast)
"I attended Point Park's High School Media day last year and I loved the school. I wanted to see what it would be like living on campus and meet more professors. I loved it!"
Julia Csuk
Peters Township High School
Dream Job: Photographer
"I have loved photography for a long time and am pretty serious about pursuing it as a career. It was great to learn more about it and meet students who share similar interests. My favorite part was going on field trips and having roommates, who are now friends."
Learn More
School of Communication | Faculty | Pittsburgh is My Campus | Visit Point Park
Photos by School of Communication students Bobby Bertha and Meghan Macioce
More About: photojournalism, Pittsburgh Pirates, summer media workshops, photography, journalism, Center for Media Innovation, broadcast reporting, School of Communication