more news
High School Students Visit Point Park for Summer Media Workshops
Wednesday, July 8, 2015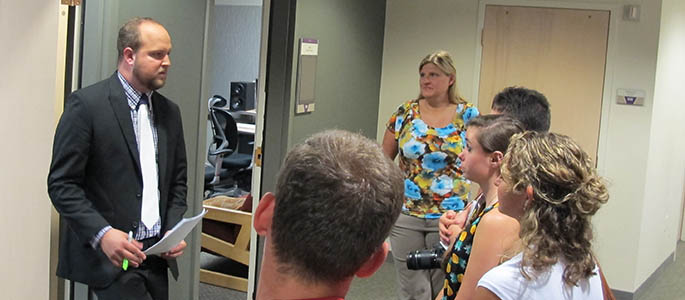 Alumnus Justin Labar talks to students about how Point Park prepared him for his career.

High school students gained real-life journalistic experience and got a taste of what it's like to live on a college campus during the School of Communication's Summer Media Workshops.
Held June 15-19 at Point Park, students explored topics in interviewing and reporting, photography shooting and editing, broadcast reporting/shooting and editing, and website design and editing. Check out their work on the student-created website.
Photo Gallery
---
Learn More
"My favorite part of the workshops is watching the students work outside of their comfort zone and getting to see the results," said Heather Starr Fiedler, Ph.D., associate professor of multimedia. "We had students who had no desire to be on camera or on the microphone, but they created podcasts and video packages and were very pleased with the results."
During the week the group had the chance to network with media professionals from the Pittsburgh Tribune-Review, Consol Energy Center, KDKA-TV, the Pittsburgh Post-Gazette, and alumnus Justin Labar, a host of Chair Shot Reality, an entertainment talk show about professional wrestling.
Here's what participants had to say about this year's workshop:
"I learned how to write journalistically, shoot a DSLR camera in manual mode, how to run a video camera and edit video. I had a fantastic time meeting new friends and learning about journalism. I can't wait to come back next summer!" - Nick Tommarello, Union High School
"I loved attending the workshop at Point Park. I learned how to use different types of cameras, met reporters, explored the city and wrote a story about fashion trends in Pittsburgh." - Hallie Lauer, Knoch High School
"I learned how to write in AP style, how to edit video and how to adjust a camera to get credible photos. It was such an amazing experience being in Downtown Pittsburgh. I'm very proud of the work I created and I learned so much from all of the patient and loving educators I met at Point Park." - Michael Reiner, Wellsville High School
"I had a wonderful experience at this workshop and it has given me a new outlook on my college search. Spending the week in Pittsburgh and living in the dorms helped me to gain knowledge of life in and on a college campus in the city." - Samantha McCarthy, Knoch High School
Students interested in visiting Point Park's School of Communication are invited to attend a High School Media Day during the fall and spring semester. Registration information will be posted on the High School Programs page.
Photos by Victoria A. Mikula, junior mass communication major
More About: KDKA, multimedia, broadcast reporting, summer media workshops, journalism, high school programs