more news
High School Workshop Introduces Students to Careers in Multimedia Journalism
Tuesday, July 22, 2014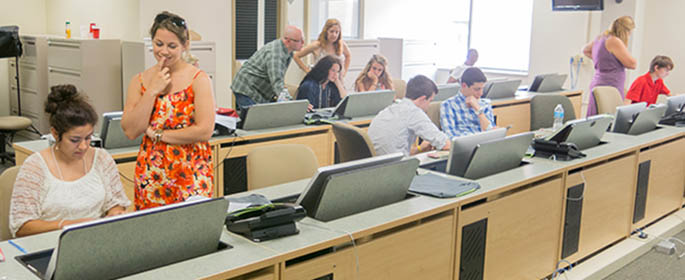 High school students learned the basics of multimedia journalism, reporting, digital graphics and layout, and how to work with audio and video at the School of Communication's summer media workshop, June 17.
Photo Gallery
---
Related Links
School of Communication
Schedule a Campus Visit
Request Information
"When there's something happening in the city, our students go out in Downtown Pittsburgh and track down the stories," said Heather Starr Fiedler, Ph.D., associate professor of multimedia, as she welcomed the students to campus.
The group of nine students spent the first half of their day in interactive workshops exploring photojournalism and video shooting techniques, WordPress site development, blog writing, multimedia, and storytelling and interviewing skills.
The students worked with School of Communication faculty to write, edit and publish their work online. Check out the student-created website for blogs, photos and videos.
"Writing should be fun. Your stories should be useful, relevant and interesting," said adjunct instructor David Grande. "As a reporter, always remember to listen more than you engage in the conversation."
Cole Hetzler, a junior at Mars Area High School and an aspiring sports journalist, returned to Point Park for his third media workshop.
"These workshops have taught me that this is the field I definitely want to pursue. This year I learned so much more about how to effectively use technology when I write my stories," Hetzler said.
During the afternoon, students had the opportunity to go off campus to find a story about arts and culture in Downtown Pittsburgh.
"I felt like a real journalist going out in the city to interview people and take pictures; it was so much fun," said Keith Davis, a junior at Central Catholic High School.
Students interested in visiting Point Park's School of Communication are invited to attend a High School Media Day during the fall and spring semester. Registration information will be posted on the High School Programs page.
More About: Downtown Pittsburgh, high school programs, summer media workshops