more news
Innocence Institute work leads to reopening of high-profile case
Tuesday, January 11, 2011
Student reporters investigate conviction in fatal fire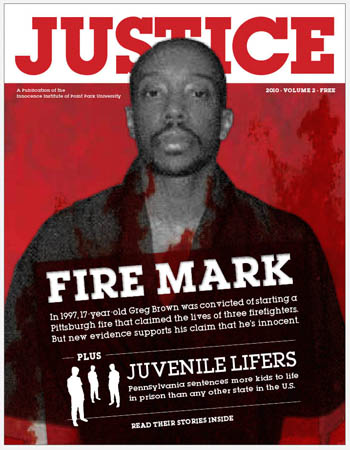 The seven-year investigation by student reporters at the Innocence Institute at Point Park University has contributed to a judge's decision to reopen a high-profile arson-murder case and consider whether the man convicted 14 years ago deserves a new trial.
The students' work is the cover article in the latest issue of "Justice," a publication of the Innocence Institute. In "Fire Mark," reporters Amanda Gillooly and Matt Stroud examine the case against Greg Brown, who was convicted in 1997 of triple homicide in a Homewood blaze that killed three Pittsburgh firefighters.
Gillooly is a 2002 graduate of Point Park and is now editor of the Canon-McMillan Patch website. Stroud is a Point Park graduate student.
"This is a major triumph for our students," said Bill Moushey, director of the Innocence Institute and an associate professor at Point Park. "Their story is merely the beginning of the findings of this massive probe."
Based on the information the students uncovered, Brown filed a notice in Allegheny County Common Pleas Court that new evidence should entitle him to a new trial or to have his conviction vacated. The court has set up a timetable for reviewing the case, with a hearing scheduled for June 20.
The reopening of the case has drawn wide coverage in the Pittsburgh news media and brought new attention to the work of the Innocence Institute at Point Park. National websites have also linked to the "Justice" magazine report.
Related links
School of Communication
Admissions information
Request information
The news media coverage has included:
The Innocence Institute of Point Park University is among 73 such projects around the United States and abroad, but only a few are journalism based. At Point Park, the Innocence Institute is part of the School of Communication and operates under the direction of Moushey, an award-winning investigative reporter for print and broadcast news organizations.
Point Park undergraduate and graduate students take classes, or work as graduate assistants and in other capacities, to probe into and write about allegations of wrongful convictions, carefully culling through hundreds of inquiries each month from prison inmates proclaiming their innocence. Students read court records, visit crime scenes and find all witnesses, not only seeking proof of actual innocence, but learning the intricacies of the criminal justice system.
"The Innocence Institute is a place where young, aspiring journalists can work toward finding the truth in these cases," Moushey said.