more news
Internship Leads to Full-Time Job for Public Relations and Advertising Alumna
Tuesday, March 5, 2013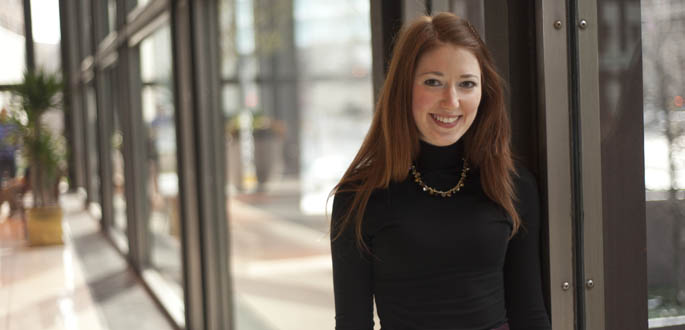 Meet Stacey Simon
Job title: Social Media/Digital Marketing Manager at UPMC
Degree earned: B.A. in public relations and advertising, 2007
College activities: Public Relations Student Society of America, National Broadcasting Society, Innocence Institute, United Student Government
Hobbies/interests: Social media (it's more than just a job!), exercising at the Downtown YMCA, biking on Pittsburgh's great trails, volunteering and spending time with my boyfriend, friends and family, and my adorable pomeranian/chihuahua, Puma
Hometown: Pittsburgh, Pa.
Now living in: Pittsburgh, Pa.
High School: Woodland Hills High School
What inspired you to pursue a degree in public relations and advertising at Point Park?
I've always loved writing and meeting new people, and I felt that the public relations field was a great fit considering my personality and talents. I chose Point Park because of the small class sizes and many opportunities to gain real-world experience. I also found the professors to be top-notch - most of them worked in the field themselves and were able to offer a wealth of useful information to their students. I learned so much from professors Bob O'Gara, Helen Fallon and Bill Moushey, just to name a few.
How did you land your current position at UPMC?
Like many of my fellow communications classmates, I attended one of Point Park's internship fairs and had the opportunity to meet representatives from several of the city's top employers. My professor, Helen Fallon, encouraged me to apply at UPMC, as one of her former students, fellow Point Park grad Susan Manko, was there seeking an intern for UPMC's media relations department. Helen introduced us that day, and I ultimately landed the internship. I interned at UPMC during both semesters of my senior year and stayed on throughout the summer until I was hired full-time in August 2007.
What are your job responsibilities?
While working in media relations at UPMC, I quickly became interested in the potential power of social media as a communications tool. During my time here, I went from tweeting press releases from my personal Twitter account to eventually launching UPMC's corporate Facebook page and several supporting channels thereafter. I ultimately accepted a challenging position - my current position - as UPMC's first full-time social media manager.
I currently manage our online communities, which includes monitoring, content creation and collaborating with my communications team members to maintain consistent messaging and promote strategic initiatives. I also have been responsible for delivering social media updates in times of crisis, for example, using Twitter to release accurate information during the tragic shooting incident at the Western Psychiatric hospital last March.
What are your career goals?
I plan to stay in the public relations field and continue to adapt to the ever-changing landscape. After attending the One Young World Summit in Pittsburgh this past October, I became inspired to use my skills to contribute to the public good. I want to change the world, even if in just some small way.
Anything else you would like to add?
Listen to your professors - they know what it's like in the real world. Intern, volunteer, make connections and get as much practical experience as you can while you're still in college. It really helps you land that first full-time job.