more news
Journalism and Multimedia Double Major Lands Internship at Pittsburgh Post-Gazette
Thursday, July 25, 2013
Meet Marina Weis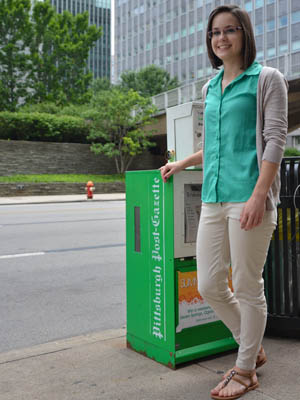 Internship: Pittsburgh Post-Gazette
Majors: Journalism and multimedia
Expected graduation: May 2014
Hometown: St. Marys, Pa.
High School: Elk County Catholic High School and St. Marys Area High School
College activities: The Globe, The Point Park News Service, Honors Program
Why did you choose to attend Point Park University?
When I was searching for a college, I knew that I wanted something in an urban setting, and I wanted to study journalism. An urban setting increases your chances in finding work while/after you are in college. It's so easy to network with big businesses that are within walking distance to campus. Colleges in the area may have been urban, but they did not have the specific journalism major that I wanted.
Looking more into Point Park, I found that a smaller school would allow me more attention with my professors who would eventually write me letters of recommendation. When I learned that all of my classes were within walking distance from my on-campus residence, there was no doubt that Point Park was the college for me.
How is your double major helping you to reach your career goals?
I will graduate with two degrees after only four years of study, but I feel prepared for the real world. My journalism professors have all worked in the field, some of them even at the Pittsburgh Post-Gazette.
Hands-on assignments introduced me to the challenges of journalism, shooting and editing video and writing for online publication.
Although the field is changing, the program changes with it, and Point Park educates students for the future of journalism as best that it can predict.
How did you land your internship?
I was nominated by Point Park journalism professors for an academic internship with the Pittsburgh Post-Gazette and received a scholarship.
What are your key responsibilities as an intern?
I primarily write feature stories for sections such as science and health, home and garden and food and magazine. I also shoot video if a story warrants it and edit it for a story/photo/video package. But I am not limited to that - I also write local breaking news stories whenever I can.
At the internship, I am encouraged to try different things. I am so glad that I took a video production and editing class at Point Park. With that skill, I am able to get even more out of my internship. Getting published every week in a prestigious newspaper is the greatest feeling, and if it wasn't for Point Park, I may not have had the opportunity.
Why would you recommend Point Park to a prospective college student?
Point Park will make you hit the ground running, especially in journalism. You will gain practical skills and experience, such as writing for the college paper on deadline or shooting and editing video that will put you ahead in any job or internship. With professors who give you one-on-one attention, a business-oriented urban setting and classes offering hands-on experience tailored to your goals, Point Park is the perfect recipe for rapid success.
Photo by Connor Mulvaney, junior photojournalism major
More About: Downtown Pittsburgh, Honors Program, Point Park News Service, The Globe, internships, multimedia, journalism