more news
Journalism Major Jessica Federkeil Wins Women's Press Club Scholarship
Thursday, April 21, 2016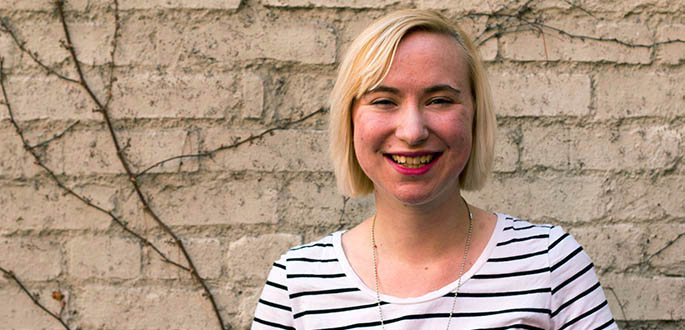 Meet Jessica Federkeil
Major: B.A. in Journalism
Expected graduation: December 2017
Hometown: Butler, Pa.
High school: Knoch High School
Hobbies/interests: Music, concerts, food, travel and my dog Jinx
Scholarship from Point Park: Vice Presidential Scholarship
College activities: Point Park News Service (apprentice) and the Honors Program
Internship held: Web/News Intern, Pittsburgh Tribune-Review (summer 2016)
Dream job: Staff Writer with Alternative Press Magazine
Favorite quote: "Dream as if you'll live forever. Live as if you'll die today." - James Dean
Twitter: @jaf1341
What is the Women's Press Club Scholarship?
The Women's Press Club scholarship honors one of Pittsburgh's first female reporters with a byline, Gertrude Gordon. This year the Gertrude Gordon Memorial Fund is celebrating its 60th anniversary. I received the scholarship by competing in a feature-writing contest, and my piece was selected for first place out of 11 entries.
What does receiving this award mean to you?
I feel really honored to have received this award especially because the contest looked specifically at what I can do as a writer and reporter.
Why did you choose Point Park for your major?
I attended a multimedia summer camp for high school students after my sophomore year. The workshops I participated in during that week showed me everything the school had to offer. I never even looked at any other schools after that, I was set on attending Point Park.
What's it like going to school in Downtown Pittsburgh?
Even though it's only about an hour away from where I live, it is a totally different place in Downtown Pittsburgh. There is always something going on. I love that we get free admission to a lot of the museums around the city. I definitely use that to my advantage.
What advice do you have for students interested in your major?
Work hard. I've earned so many opportunities simply through my hard work and dedication. I am only in my second year at Point Park, and so many of my dreams have already come true.
Anything else you would like to add?
I would like to thank all of my professors for helping me grow into the writer and student I am today. Especially, I thank my journalism professors, Andrew Conte, Bill Moushey and Helen Fallon.
Photo by Victoria A. Mikula, junior mass communication major
More About: internships, high school programs, scholarships, summer media workshops, Knoch High School, journalism, Point Park News Service, School of Communication, Honors Program