more news
Journalism Student Andrew Goldstein Receives Myron Cope Scholarship
Thursday, May 2, 2013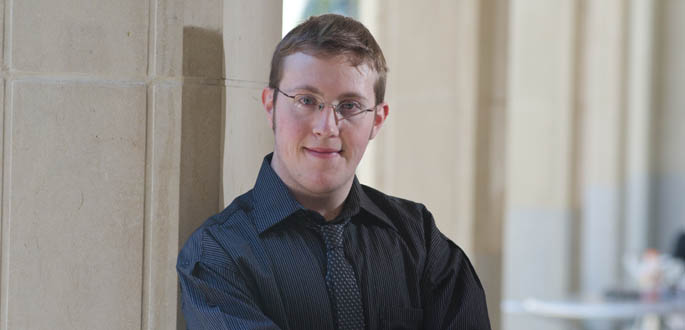 School of Communication student Andrew Goldstein is the 2013 recipient of the Myron Cope Endowed Scholarship, which benefits journalism and broadcasting students at Point Park University.

Meet Andrew Goldstein
Major: Journalism
Expected graduation: May 2014
Hometown: Pittsburgh, Pa.
High School: Taylor Allderdice High School
College activities:The Globe and WPPJ
Hobbies/interests: Writing, playing and watching sports, traveling, martial arts, music
How were you selected to receive the Myron Cope Scholarship?
I had to submit an essay on Myron Cope's impact on journalism as well as a resume of my work. A panel from outside of the University reviewed the essay and resume, and they selected me as the winner.
How does it feel to receive this scholarship?
I was somewhat in shock because I was up against two of my good friends who were also deserving of an award. As it sunk in, I felt quite honored and humbled to win the scholarship in the name of Myron Cope because he is a legend deeply woven into the fabric of sports journalism whose impact has been felt on a global scale. To win a scholarship with his name on it goes beyond words that I could possibly describe.
How did you become interested in your major?
Many of my teachers in high school and my family told me that I was a good writer, so I wanted to pursue a way to use that skill to my advantage. I joined my high school newspaper, and my interest in journalism grew.
Why did you choose to attend Point Park's School of Communication?
I grew up in Pittsburgh and I wanted to stay in the city when I went to college. As my interest in journalism grew in high school, I knew that was the direction I wanted to go. I toured other colleges in the area but some of them did not have journalism programs and others just didn't appeal to me. When I came to Point Park and took a tour, it felt like the right place to learn and get involved. On top of that I had heard great things about the journalism program in the School of Communication, and that sold me on Point Park.
Describe the teaching style of the School of Communication professors.
Every professor that I have had in the School of Communication has a different style, but they all try to get the best out of their students. Some are intense while others are far more laid back, but every one of the professors that I have had work to make their classroom seem like a newsroom so that students can be prepared for the real world.
What are your career goals?
I am a writer at heart and while I won the Myron Cope Scholarship for my work in sports journalism, I would be happy writing for any section of a newspaper or magazine. If I get a job as a professional journalist, I am confident that my editor could send me out on any assignment, whether it is sports, news or features, and I would handle any topic well no matter what subject I was given.