more news
Justin Karter Receives Outstanding Graduate Student Award
Monday, May 12, 2014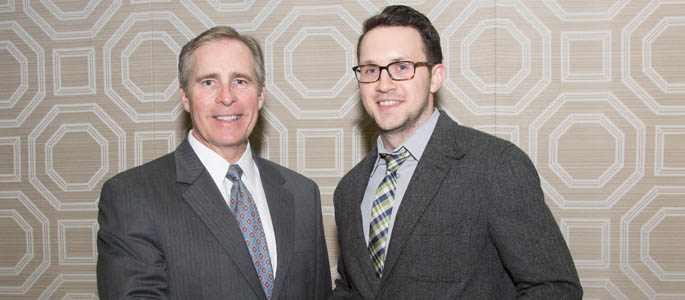 Graduate student Justin Karter with Point Park President Paul Hennigan, Ed.D., at the Outstanding Student Awards.
Meet Justin Karter
Degree earned at Point Park: M.A. in journalism and mass communication, 2014
Currently pursuing: M.A. in clinical-community psychology, 2015
Undergraduate degree: B.A. in social sciences, minors in English literature and classical civilizations, SUNY Buffalo Honors College, 2011
Graduate activities: Honors Program graduate assistant, alternative spring break trip to New York City, honors conferences, poverty law graduate writing fellow at Neighborhood Legal Services, executive director at Pittsburgh International Rotary Club, faculty assistant for honors University Experience course, conference assistant for the Northeast Regional Honors Council, guest writer at Sampsonia Way Magazine, Global Solutions Pittsburgh Young Professionals Outreach committee, contributor and social media manager at Occupy Pittsburgh News
Hometown: Buffalo, N.Y.
High School: Lake Shore Senior High School, Angola, N.Y.
Hobbies/interests: Reading, getting together with friends, playing sports and talking politics
"Justin has led our honors students in so many successful projects and activities during his graduate assistantship. His dedication to academics, community service and active engagement in all aspects of student life on campus make him an excellent role model for them. He's been an excellent addition to our program," said Helen Fallon, professor and director of the Honors Program.
What does receiving the Outstanding Graduate Student Award mean to you?
I was really surprised at first and now I feel a lot of gratitude to those who nominated and selected me for the award. I am grateful for all of the opportunities that were made available to me and for those who helped me succeed.
What are some of your favorite Point Park memories?
As a graduate assistant, I was able to work with some truly outstanding undergraduate honors students to organize the Storytelling and Human Rights Symposium.
The program connected local non-profit organizations, journalists, artists, professors and community leaders to talk about the role of storytelling in their work. Students worked with the panelists in interactive workshops to develop their own social justice storytelling skills.
In what ways has Point Park shaped who you are today?
I think it would be hard to overstate the influence Point Park has had on me. Both the journalism and psychology graduate programs have consistently challenged me to look at the world in new and interesting ways. My faculty mentors have also been terrific role models to me as a person.
What was it like going to graduate school in Downtown Pittsburgh?
Pittsburgh is an awesome city for young people. I felt immediately at home here and I love all of the parks, art galleries, music venues, large and small theaters and the connections with all of the many local universities.
What's next for you?
I will complete my M.A. in clinical-community psychology next spring, so I'll be at Point Park for one more year. I am currently preparing my applications to begin a Ph.D. in social psychology program, fall 2015.