more news
M.A. alumnae author "Food Lovers' Guide to Pittsburgh"
Tuesday, September 4, 2012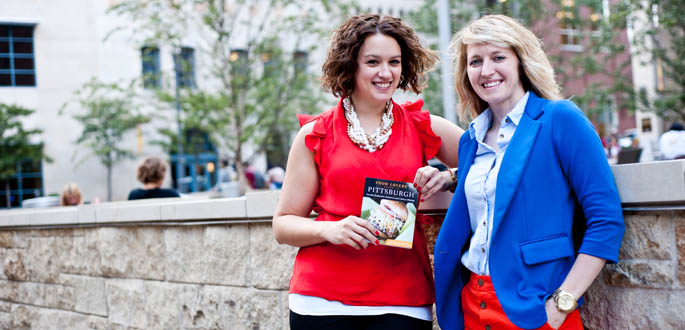 M.A. alumnae Sarah Sudar (left) and Julia Gongaware.
Point Park University alumnae Julia Gongaware and Sarah Sudar, along with Amanda McFadden and Laura Zorch, recently authored Food Lovers' Guide to Pittsburgh: The Best Restaurants, Markets & Local Culinary Offerings. The book is based on their food blog, eatPGH.com. Gongaware and Sudar are graduates of the M.A. in journalism and mass communication program.
The book is described as "the go-to-guide for all the best places to eat, drink, and buy food in our fair city. It covers favorite restaurants and landmark eateries, specialty food shops, markets and products, and recipes from top local chefs."
Gongaware, a social marketing manager at UPMC Health Plan, said she chose Point Park for graduate school because of the "small class sizes, flexibility for working professionals and the elite journalism program."
Sudar, a communications specialist at the University of Pittsburgh, credits the education she received at Point Park for her recent success.
"Specifically with the book, my M.A. degree has helped me tremendously ... from learning about copyright in Media Law to citing sources in Research Methods, I incorporated what I learned in my classes in the process of writing this book," she said.
When asked of their career goals, Sudar says she hopes to be a New York Times bestselling author, at least twice. Gongaware says that she hopes to continue writing and talking about food while also travelling around the world.
Food Lovers' Guide to Pittsburgh, published by Globe Pequot Press in September, is available on Amazon.