more news
M.A. Alumni Profile: Meet Angela M. Gaitaniella, Development Manager, Heinz History Center
Tuesday, September 19, 2017
Meet Angela M. Gaitaniella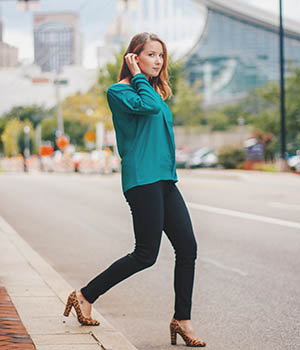 Job title and employer: Development Manager, Heinz History Center
Degree earned: M.A. in Journalism and Mass Communication, 2009 (now the M.A. in Media Communication)
Graduate school activities: I worked two part-time jobs as a marketing/communications technical writer at Thermo Scientific and as a manager at Primanti Brothers
Hometown: Pleasant Hills, Pa.
High school: Thomas Jefferson High School
Now living in: Dormont, Pa.
Hobbies/interests: Running, TJ Arts board member, reading, performing arts, Planned Parenthood volunteer and doting on my dog, Hamlet
What factors led you to pursue your graduate degree from Point Park?
I graduated a semester early from the University of Pittsburgh and began applying for jobs, but the further along I went into that process, the more I realized I didn't feel as prepared as I wanted to be. I began to research graduate programs in the area, and liked what I discovered about Point Park's program. Specifically, the hands-on, career-oriented approach and it's connectedness with the city of Pittsburgh were most appealing to me, and meshed with what I was looking for at the time.
Who impacted you most from the M.A. program?
My favorite Point Park professor is Camille Downing. After my first class with her, I made it a priority to take whatever class Camille was teaching if I could manage. I found Camille to be an incredibly effective teacher, using her vast professional experience to form her curriculum and projects into a way that optimally benefited her students. She would encourage us to make connections in the community, where we would gain a hands-on skill set while networking. Camille's classes led to my first job in my professional career, and I'm so grateful.
Tell us about your current position.

I began at the History Center in November 2013 as development events manager, responsible for various aspects of the fundraising program, specifically the management, planning and implementation of the institution's major annual fundraising events.

In summer of 2017, I received a promotion offer to head the Development Department within the History Center, and accepted. As development manager, I am now responsible for ensuring the successful execution of fundraising programs and events, donor cultivation and pursuing funding opportunities for all institution-wide initiatives. I manage the daily operations of the Development Department and work with the vice president of museum administration to coordinate special projects as they arise.
What do you enjoy most about your job and why?
This will be my eighth year working in the non-profit sector and I love it. It's personally very important that I work for institutions that help improve the city of Pittsburgh. I love this city so much, and while in school, I realized that finding a satisfying career meant working at places whose overall mission made Pittsburgh an even better place to live.

The History Center's mission is to educate, engage and inspire people by connecting the past, present and future through the preservation of Western Pennsylvania history. The Pittsburgh and Western Pennsylvania community has a rich and expansive history that is worth exploring and preserving. I'm thrilled to go into work every day with that goal in mind - to learn from our past to understand the present so we as citizens of Pittsburgh, of the United States, and of the world, can make better decisions for a better future.
More About: graduate education, M.A. in media communication, Downtown Pittsburgh, graduate programs, alumni, success story