more news
M.A. Alumni Profile: Meet Elizabeth Willard, Proposal Writer, Pricewaterhouse Coopers
Wednesday, January 18, 2017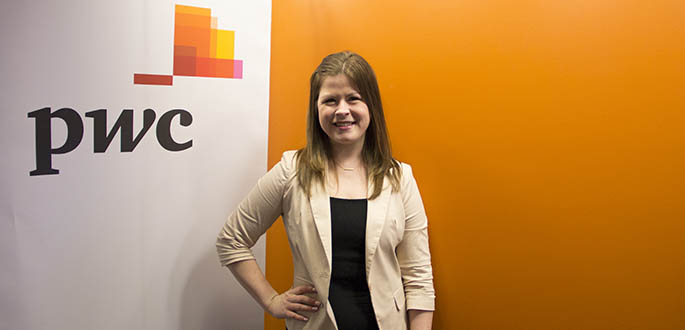 Meet Elizabeth (Beth) Willard
Job title: Proposal Writer
Employer: Pricewaterhouse Coopers, LLC
Degree earned at Point Park: M.A. in Communication Technology, December 2016
Undergraduate degree earned: B.A. in Industrial/Organizational Psychology, Penn State University, 2011
Hometown: Murrysville, Pa.
High school: Franklin Regional High School
Now living in: Squirrel Hill (Pittsburgh's East End)
Hobbies/interests: Travel, reading, dance, volleyball and my new puppy!
What are your key responsibilities as a proposal writer?
I work with client service teams to respond to requests for proposals from companies for various services, driving the proposal response process. I help them create a visually appealing and engaging document (sometimes a website) to tell their story, showcase their talent and ultimately win the work. I'm also a team copy editor, which means I review my team members' work for proper grammar, punctuation and risky language.
Why did you choose Point Park for graduate school?
I was looking for a job and didn't have the skills I needed for the kinds of jobs I wanted. When I was looking at graduate programs, I wasn't sure exactly what kind of program I needed, until I saw communication technology at Point Park. The classes entailed everything I genuinely wanted to learn, and the city location was a perfect walking distance from Downtown offices. When I finally found a job that fit, I was lucky to have a school that fit too.
How have you applied what you learned at Point Park in your current role?
Classes such as Integrated Marketing and Communications and Web Editing have inspired me to bring creative ideas to the proposal group. I was chosen as a member of a small marketing team within my department and being exposed to recent IMC trends gave me confidence to propose ideas. Additionally, concepts from Visual Communication Technology really helped me understand the habits of readers online, which directly applies to what I do every day.
How has your graduate experience made you better in your current role?
The little things are the big things, and for me, honing my in-person and document presentation skills has proven valuable in my role. I was able to co-present at a conference for work in October and was comfortable in front of the group due to my many graduate-level presentations.
What are some of the most rewarding experiences you had at Point Park?
The opportunity to work with Professor Dumova was very rewarding. The way she takes the time to get to know every student and their strengths is part of what I was looking for in a graduate program. Her genuine passion for communication technology is contagious and the way she believes in every student is inspiring.
Why would you recommend Point Park's M.A. in communication technology program?
The flexibility of this program is priceless for working professionals like me. I was able to work full time and take full-time classes, feeling supported by both my job and my school. Many classes are offered online, which is fantastic for busy adults, but many classes are in person, too, allowing students to form valuable, face-to-face connections and get the best of both worlds.
More About: online programs, graduate programs, Franklin Regional High School, Downtown Pittsburgh, faculty, PricewaterhouseCoopers, graduate education, success story, M.A. in communication technology