more news
Master's in journalism and mass communication offers tracks to success
Friday, July 20, 2012
Associate Professor Tatyana Dumova, Ph.D., works with students in a School of Communication graduate class.
Point Park's Master of Arts in journalism and mass communication provides the flexibility Tinamaria Colaizzi needs to accomplish her goals.
---
Related links
Graduate admissions
Request more information
Schedule a campus visit
Apply now
Colaizzi says she wants to explore international business topics and become a broadcaster anchoring the news one day. So Colaizzi is working on a master's degree in journalism and mass communication with a concentration in international business. The specialties are part of a new track offered within the M.A. degree.
"Point Park's new program is easy to tailor," says the Regent Square resident. "I can take the broadcasting and journalism courses I need and want, plus specific business classes."
Students in the University's new M.A. journalism initiative track concentrate in one of four areas: environmental studies, education, criminal justice or business. And within business, students further specialize in health systems, general management, accounting/finance/economics or international business. Point Park also offers the Master of Arts in journalism and mass communication/Master of Business Administration program that allows students to obtain both degrees in as little as two years of full-time course work.
Colaizzi says she is also excited about the program's emphasis on long-form journalism. The focus allows students to graduate with a portfolio of feature-length articles or book material related to their concentration.
Having traveled extensively in Italy and China, Colaizzi says she plans to research and write a book, possibly focused on a growing population of Chinese businesspersons living and working in Rome.
The School of Communication graduate program offers equally challenging academic and professional goals to other master's candidates, who range from working professionals to recent graduates seeking to strengthen their resumes.
Some are pursuing the professional track, which does not include a subject concentration but allows for tailoring the degree in other ways. Still others are on the thesis track, which focuses more on research and theory for students who may wish to pursue a doctorate degree or who are interested in more scholarly pursuits.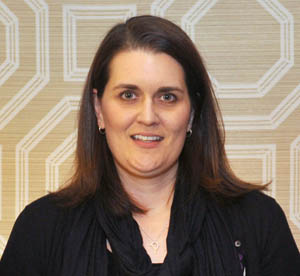 2012 M.A. graduate Pam Walck
Pamela Walck, who completed her M.A. this year and will start a Ph.D. program at Ohio University in the fall, is one such student.
Walck came to the graduate program with 16 years of newsroom experience.
By combining her years of hands-on work with Point Park's foundational courses in mass communication theory and research, she says she gained a new perspective on the ever-changing communications industry.
And she's ready to share that knowledge as a teacher.
"I know I have something to say to students," says the 39-year-old.
Walck credits the faculty at Point Park's School of Communication with providing key support when she came back to the classroom for the first time and throughout the program.
"Having professors who were encouraging and supportive of my goals made all the difference."