more news
Media Workshop Introduces Students to Careers in Journalism and Multimedia
Wednesday, July 25, 2012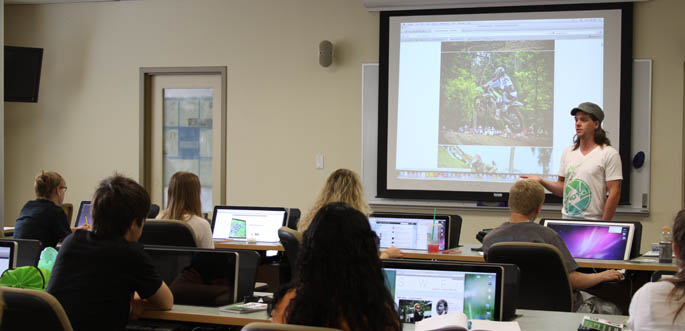 Point Park alumnus and professional photographer David Kelly speaks to students.

For high school senior Maggie McCauley, the chance to meet a local news anchor in person was a dream come true.
Video: Media Workshop
Video by Associate Professor Christopher Rolinson
Related Links
School of Communication
Facilities & Equipment
High School Programs
Admissions Information
Kristen Schipley, a junior, found the photography walking tour around Downtown and visiting the Wood Street Galleries to be a great way to learn more about shooting and editing photos while taking in the sights around the city.
And senior Sara Dickey enjoyed using the studio equipment, particularly learning more about videography.
All three took part in the School of Communication's Media Workshops for high school students, June 17-22, at Point Park. Seventeen students from the tri-state area attended the week-long interactive workshops - learning about audio, photography, social media, writing and video to prepare them to produce print and online projects.
"The Media Workshops provide high school students the unique opportunity to experience what it's like to be a journalist. In addition, students meet with working professionals in the industry," said Heather Starr Fiedler, Ph.D., associate professor of multimedia and chair of faculty for Point Park's School of Communication. "Students become acquainted with the faculty, see our facilities, train on state-of-the-art-equipment, and get a taste of what it's like to live on a college campus in the middle of a city."
School of Communication faculty members and guest sports and arts & entertainment media professionals led interactive sessions to teach students how to use several types of media in their related field of interest.
This year's program took students off campus to tour major sports facilities, theaters and venues to get a behind-the-scenes look at how each business operates.
"Attending the Media Workshops at Point Park is as close to the actual college experience that you can get," said Samantha DiPrizito, a senior at Redland High School who is interested in pursuing a degree in journalism. "I strengthened my writing skills and had the opportunity to network with media professionals. Plus, I made new friends that share a similar interest."
Arts & Entertainment Media Workshop Highlights
• Tour of Stage AE and the Benedum Center
• Guest Speakers: Sara Bauknecht, Pittsburgh Post-Gazette, Kate Benz and JoAnne Harrop, Pittsburgh Tribune-Review, Aja Jones, Pittsburgh Cultural Trust
• Attended A Chorus Line with a backstage tour
Sports Media Workshop Highlights

• Tour of Consol Energy Center and 93.7 The Fan
• Guest Speakers: Rob Rossi, Pittsburgh Tribune-Review, Bob Pompeani, KDKA-TV, Dan Hart, Pittsburgh Pirates
• Attended a Pirates game with an insider's tour of PNC Park

Photos by Kristina Alvarez, photojournalism major