more news
Meet M.A. Alumna and Communications Assistant Stephanie Sikora
Thursday, June 28, 2012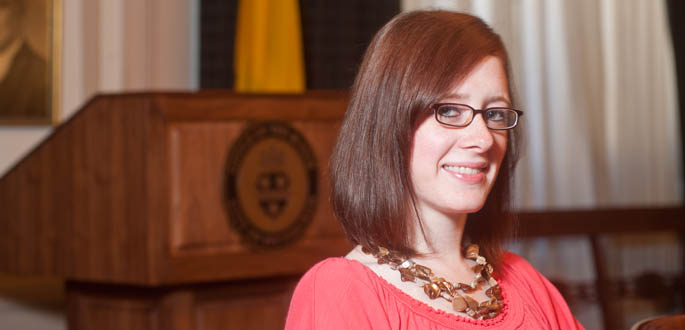 Meet Stephanie Sikora
Degrees earned: M.A. in journalism and mass communication with a focus in public relations, Point Park University; B.A. in communication and journalism, Shippensburg University
Graduation years: M.A. in 2011, B.A. in 2007
Job title/current employer: Communications Assistant, Office of Mayor Luke Ravenstahl
Hometown: Larksville, Pa.
Now living in: Pittsburgh, Pa.
Why did you choose to pursue a Master of Arts degree?
I truly enjoy education and love to learn about things I'm interested in. I chose to pursue communications as a career because I believe it can lead to career opportunities that allow me to positively affect people's lives. I feel that in order to stay relevant, it's important to pursue as much exposure to your field as you can, and getting my M.A. was the next step in that process for me. Also, I'd like to stay in education and consider teaching, and would like to get my Ph.D., so a M.A. was my next step.
Did Point Park's Downtown Pittsburgh location play a role in your decision to attend the university?
I would say yes. When I visited Point Park - and Pittsburgh - for the first time, there was an enticing vibe that I felt, and I knew it was going to be a place of opportunity for me, personally and professionally. I liked that Downtown had a small town feel while providing all the necessities of an educational and business district.
How have you incorporated the skills you learned at Point Park into the work that you do?
At Point Park, I learned a lot about the nuts and bolts and realities of what it takes to work in communications and public relations. Gaining skills in writing structure, style and research, as well as learning what is expected of a communications professional, were very helpful. The projects I worked on and professors I worked with conditioned me to be able to effectively perform my job in the mayor's office.
What advice do you have for prospective students entering the M.A. program?
Give it everything you've got. It's truly a great opportunity to learn about and develop yourself, as well as work on practical projects and learn about relevant subjects that will give you the experience and knowledge to put you one step in front of those without such experience. Point Park's M.A. program is very challenging and sometimes you might want to quit, but no pain, no gain! The skills you'll acquire will be worth it.
Anything else you would like to add?
I got more out of the degree than I anticipated. Aside from the valuable skills I learned, the experience of grad school at Point Park enabled and encouraged me to learn and develop myself, professionally and personally. People often attend grad school at a crucial time of development in their lives, whether they realize it or not, and it's a great opportunity to make the most of it. It may not feel so great at the time - it's challenging - but I truly got more out of the degree than I could have ever imagined.