more news
Meet M.A. Student and Fulbright Scholar Olga Zaichenko
Tuesday, August 7, 2012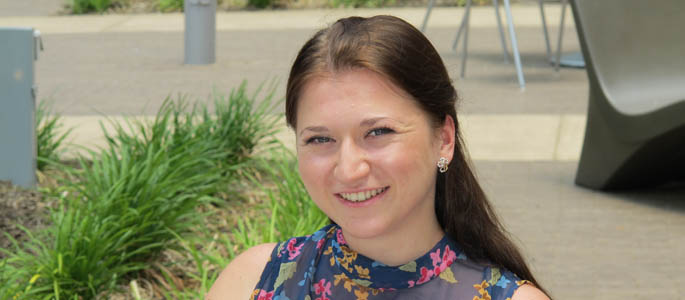 Meet Fulbright Scholar Olga Zaichenko
Graduate degree pursuing: M.A. in journalism and mass communication
Expected graduation from Point Park: May 2013
Hometown: Vladivostok, Russia
Degree received from home institution: Specialist diploma with honors in Regional Studies (Countries of North America), Vladivostok State University of Economics and Service in 2009
Currently living in: Pittsburgh, Pa.
Hobbies/interests: Travelling, running, dancing
What has been your favorite experience at Point Park?
Everyone at Point Park has been very helpful and welcoming. Communication with staff and personnel has been very rewarding for me as a Fulbright Scholar. I was honored to meet President Paul Hennigan during a personal invitation to Point Park. Working with Amanda Avampato and Rebecca Lee from International Student Services has been a distinctive pleasure. In addition, my advisor, Steven Hallock, Ph.D., has provided me with good guidance regarding my academic development and schedule.
How will you apply what you've learned at Point Park to your future career?
Studying at Point Park has inspired me to consider pursuing a Ph.D. as a way to continue my education. Upon my return to Russia, I plan on finding a job in broadcast media and begin working on producing documentaries. Being a very agile person, I am open to any job opportunity and am willing to take a job that is located abroad.
Compare the educational system in the United States and in Russia.
There are some distinct differences between Russian and American educational systems. The two systems are different in the core. The Russian system is a heritage of the fundamental Soviet educational system. Its goal used to be, and to a great extent now is, to provide a comprehensive educational background. Integrated education allows a student to be proficient and find a job in virtually any field. Applicability in a wide range of fields allows a person to be more flexible and better able to transition from one field to another.
The educational system in the U.S. has a narrower educational focus. While one may have less professional training to apply skills in many fields, in-depth educational training allows the person to be well trained in a specific area.
In both systems, it is equally important that the student has to learn how to learn along with what to learn. The core principal of any personal success is the ability to continue life-long learning when outside of school.
What are some of the challenges you have overcome living in Pittsburgh?
I come from a system of different social, political and economic perspectives. Having found myself in a new background, I have to understand and learn rules and practices that locals may take for granted. There is a Russian saying that wisely recommends laying down hay on a place where one may fall. In other words, a danger foreseen is half avoided. Applied in life, it means thinking before making a decision. I have always believed that it is wise to think thoroughly through all of my options and work out a plan of my actions for each of those options. It has taken longer to adjust my whole being to a new way of thinking, to an immediate decision-making and also bearing on responsibilities of such actions. This adjustment has been rewarding. I adopted new philosophies of life, became more flexible and perhaps more open to new challenges in the future.